Jakarta's hospitals grappling with diarrhea epidemic
CLEAN UP Fire trucks were deployed yesterday to spray disinfectant in the hardest hit areas and cleaning liquids were distributed to residents
Hospitals in Indonesia's flood-hit capital were grappling with an influx of children suffering from diarrhea, authorities said yesterday as they fanned out to devastated areas to disinfect against the spread of disease.
"We are overloaded here," said Caroline Kawinda, a spokeswoman for Koja Hospital, which was treating 128 young patients from neighborhoods that had been inundated by water.
"We're very, very busy," she said.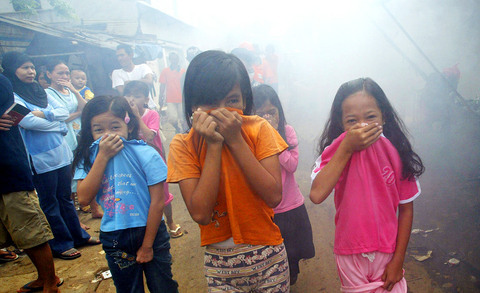 Children cover their noses as their neighborhood is fogged with insecticide in Jakarta, Indonesia, yesterday.
PHOTO: AP
Seasonal downpours last week caused rivers to break their banks in some parts of Jakarta, a sprawling metropolis of 12 million people, covering half the city in black, smelly water in the worst floods in recent memory.
At least 94 people were killed, most drowned or electrocuted, in Jakarta and its two neighboring provinces, Banten and West Java, said Suprawoto, who works with the national disaster agency. Like many Indonesians, he uses only one name.
Waters have receded with a break in weather, allowing tens of thousands of displaced people to return home for the first time this weekend to clear away mud and debris, many finding that almost everything was lost.
"My home and everything in it was washed away," said Titi Komala, a 38-year-old widow and mother of three.
"Now everything is gone and I can't do anything about it. If I had money I'd move, but I have nothing," she said.
High water levels had prevented sanitation officials from picking up the garbage that piled up in the streets in many neighborhoods, mixing with the floods. Roads have been transformed into massive swimming pools for many youths.
That has intensified fears about diseases, with the government saying besides diarrhea, three people have contracted leptospirosis, a potentially fatal disease borne by water contaminated by rat urine.
Doctors are treating people for respiratory problems and skin diseases, but so far no cases of tetanus or other serious waterborne disease have been reported.
"My two-year-old son has been suffering from diarrhea for days now and he also has a rash," said Mimi Santi, adding that water in her home was at one point neck-high, forcing the family to move out for days.
"My husband also has been vomiting," Santi said.
"But at least we're back home now, so maybe the family can get better," she added.
Dozens of fire trucks were deployed yesterday to spray disinfectant in hard-hit areas, and nearly 200 trucks and heavy machinery were being used to shovel and remove tonnes of mud and garbage beneath sunny skies.
Cleaning liquids were being distributed so residents could clean their floors, and they were also given chemicals to purify water for drinking.
Comments will be moderated. Keep comments relevant to the article. Remarks containing abusive and obscene language, personal attacks of any kind or promotion will be removed and the user banned. Final decision will be at the discretion of the Taipei Times.