Campaign begins in Beijing to eradicate undesirable manners
Propaganda shock troops armed with flags, banners and loudspeakers fanned out yesterday across Beijing on a mission to eradicate bad manners ahead of next year's Olympics.
Thousands of red-sashed volun-teers declared war on line-jumping and other social ills from makeshift stages set up on street corners and in squares in more than a dozen districts of the capital.
Red-cheeked grandmother Meng Xinglan, 68, joined hundreds of others who raised their right hands in clenched-fist salutes pledging allegiance to the campaign against line-jumping.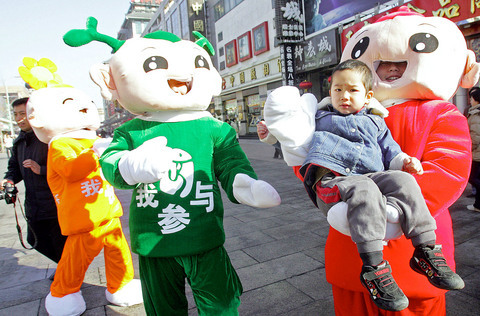 Mascots play with a child as part of a campaign that began yesterday in Beijing to eradicate line-jumping and other bad manners ahead of next year's Olympic Games.
PHOTO: AFP
"I pledge to participate voluntarily and to line up voluntarily and to be a civilized citizen ... so as to win glory for the homeland and bring honor for the Olympics," Meng and other volunteers recited in unison.
The Beijing city government announced last week that the 11th day of every month would be "lining day," part of a campaign to eliminate bad behavior including spitting and littering.
"We want to be on our best behavior for the Olympics," said Zhang Huiguang (張慧光), director of Beijing's Capital Ethic Development Office.
Zhang spoke in the downtown Wangfujing shopping street, one of Beijing's most expensive addresses, where hundreds of people pledged to improve their manners before the games.
Yang Weisen, 55, a bus mechanic who was laid off from his job a year ago, was one of around 50 volunteers who maintained order at bus stops in the Wangfujing area.
"Line up politely -- welcome the Olympics in an orderly and civilized manner," a banner adorning the bus stop read.
"Don't line-jump, wait in line," the characters on the red sash across Yang's chest said.
"Most of Beijing's people are pretty polite, but a few are not. We can always improve," Yang said.
Comments will be moderated. Keep comments relevant to the article. Remarks containing abusive and obscene language, personal attacks of any kind or promotion will be removed and the user banned. Final decision will be at the discretion of the Taipei Times.