Trainer confirms Litvinenko photograph used as target
BITING THE BULLET A senior Kremlin spokesman said using a person's face at a shooting range was `ethically incorrect' but stressed the government was not responsible
The head of a private center that trains security personnel and that held a competition for Russian special forces confirmed on Tuesday that the center has used shooting targets showing the photo of Alexander Litvinenko, the former agent who was fatally poisoned in London last year.
However, Sergei Lysyuk, head of the Vityaz Center, said he had been unaware that the photo target showed Litvinenko.
"The fact that it was Litvinenko, we only found out later from the press," Lysyuk said. "We did not shoot at Litvinenko, we shot at a target."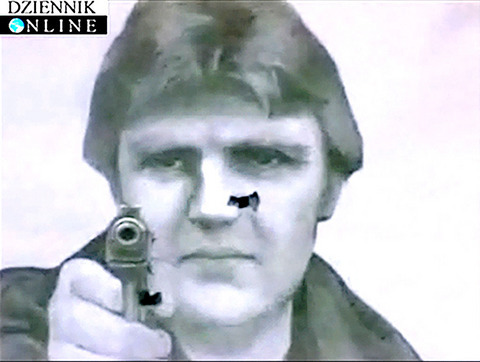 In this undated image made from television footage at Polish Web site Dziennik Online, a shooting target with the image of Alexander Litvinenko is seen at a private training center in Moscow.
PHOTO: AP
Use of the target became known this week after Russian media published photographs of Sergei Mironov, head of the Russian parliament's upper house, visiting the center in early November. His visit, to present awards in a competition for interior ministry special forces, came about a week after Litvinenko fell ill; one photo shows the Litvinenko target in the background behind Mironov.
Lysyuk said his company does not normally hold such contests and was granting a favor to former interior ministry colleagues, whose own training ground was being repaired.
A promotional video by Vityaz circulating on the Internet also shows trainees in camouflage fatigues shooting at a Litvinenko target, but Lysyuk said the video was made in 2002 and that the trainees were men about to enter the military.
Litvinenko, once an agent in the Federal Security Service, the Soviet KGB's main successor, fled to Britain and was granted asylum after accusing his superiors of ordering him to kill Boris Berezovsky, a Russian tycoon and one-time Kremlin insider who also has been granted British citizenship.
In exile, he became a vocal opponent of President Vladimir Putin, accusing him in a deathbed statement of masterminding his death.
Dmitry Peskov, a senior Kremlin spokesman, said using a person's face as a shooting range "was ethically incorrect," but stressed it was the company's responsibility and insisted government troops were not involved in the exercises.
Also on Tuesday, two key figures in Litvinenko investigation said in a TV interview that they would consider going to Britain if requested to by investigators.
Andrei Lugovoi and Dmitry Kovtun met with Litvinenko in London on Nov. 1, hours before he said he fell ill; Litvinenko died on Nov. 23 and doctors said he had been poisoned with a rare radioactive isotope.
Kovtun and Lugovoi were questioned in Moscow in interrogations observed by Scotland Yard investigators last month, and recent British media reports have claimed Lugovoi is seen as the prime suspect.
Lugovoi, in an interview with the government-funded satellite channel Russia Today, said the British reports were lies.
Comments will be moderated. Keep comments relevant to the article. Remarks containing abusive and obscene language, personal attacks of any kind or promotion will be removed and the user banned. Final decision will be at the discretion of the Taipei Times.