Violent weather causes blizzards, tornadoes
SEASONAL WEATHER Western states were hit by the second blizzard to strike the region during the holiday season, leaving hundreds of travelers stranded in cars
A winter storm nearly stretching from Canada to Mexico rolled out of the Rocky Mountains, sparing the residents of Denver another round of heavy snow, but trapping holiday travelers on highways farther east in 3m drifts.
Denver had expected at least 30cm of additional snow through yesterday, but the storm instead trudged northeast on Saturday, moving from New Mexico into northern Texas.
Strong winds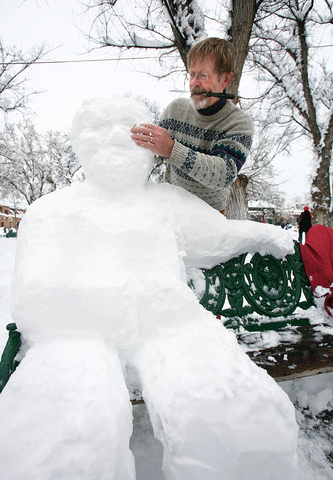 Hubert Vanhecke sculpts a snowman sitting on a bench in downtown Santa Fe, New Mexico, on Saturday. More than 60cm of snow has fallen in the downtown area and more snow showers are expected by the end of the weekend.
PHOTO: AP
Parts of eastern Colorado still expected up to 60cm of snow in combination with highly powerful winds.
"It's still a very powerful storm," said meteorologist Jim Kalina of the US National Weather Service.
Winds exceeding 80kph produced whiteout conditions.
Highway rescue
National Guard troops driving tracked vehicles crawled through the blizzard to rescue hundreds of motorists who had become stranded in the region's second blizzard during the busy holiday travel season.
"They're telling me it's zero visibility," said Major General Mason Whitney, the state adjutant general. "They'll kind of bump into something and it'll turn out to be a car with people in it."
The Guard and Civil Air Patrol planned to do searches by helicopter early yesterday, weather permitting.
Air travel
The storm, which hampered air travel through Denver on Thursday and Friday, spread snow from New Mexico to the Dakotas.
The storm also generated strong thunderstorms in the lower Mississippi Valley.
Conditions were so bad that some snowplows had to stay off the roads.
In Denver, the sun emerged on Saturday for the first time in several days, helping street crews clearing snow and ice left from the pre-Christmas blizzard.
Major carriers at Denver International Airport resumed flying regular schedules after canceling 20 percent of flights during the storm.
The weather service reported 76cm in the foothills west of Denver, with more than 23cm in the city.
Closed interstates
Parts of the Interstate 70 highway from the Rockies to Kansas remained closed on Saturday, along with several other major east-west highways.
In New Mexico, Interstate 25 from Pueblo to Santa Fe was also closed.
Ice and strong winds knocked out power to at least 14,000 people in Kansas, where up to 46cm of snow had fallen by Saturday in some areas. The snow later turned to rain in many areas.
Tornadoes
One traffic death was blamed on the storm in Colorado and a tornado killed one person on Friday in Texas.
The storm also created severe thunderstorms in the South.
A possible tornado was reported on Saturday in southern Louisiana, as well.
On Friday, tornadoes generated by the storm in Texas destroyed as many as 50 homes.
US President George W. Bush and his wife were forced to take shelter from violent weather in an armored vehicle on their Crawford, Texas, ranch.
Residents of an assisted living center for military veterans in Texas had little time to react on Friday before a tornado struck, killing one person.
Comments will be moderated. Keep comments relevant to the article. Remarks containing abusive and obscene language, personal attacks of any kind or promotion will be removed and the user banned. Final decision will be at the discretion of the Taipei Times.