Indian police accused of negligence over murders
One would go missing every few weeks -- a boy on his way to buy juice, a teenage girl coming home from a day of housecleaning, a young woman working as a maid.
Police said on Saturday a businessman and his servant had confessed to raping and killing at least 15 children and women in New Delhi's suburb of Noida over the past two years, dumping their dismembered bodies in drains from which investigators have dug out the remains in the past two days.
But with each new confession and fresh find, what appears to be taking shape is a grisly twist on a familiar story in India, where the poor are often ignored by the police.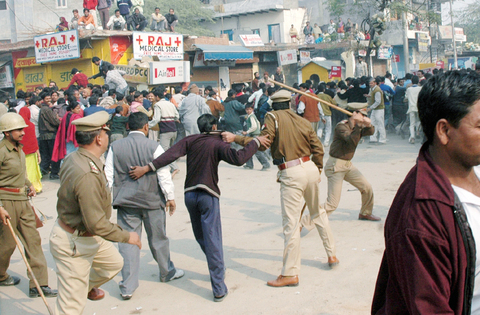 Police use baton to disperse a crowd which gathered as they dug a drain to recover bodies of children in Noida, a township east of New Delhi, India, on Saturday.
PHOTO: AP
Most of the missing -- residents say a total of 38 people have disappeared -- are the children of migrant workers, the sons and daughters of servants and street vendors who worked in this prosperous neighborhood.
Their disappearances went virtually unnoticed outside this corner of Indian suburbia, and angry relatives of the missing say they also went largely uninvestigated.
Shagri Sagar, 36, said she and other relatives went to the police when her 13-year-old cousin, Beena Haldar, disappeared in March 2005 on her way home from cleaning houses.
"They said, `you people give birth to these children and then let them loose in the street and they disappear. What can we do?'" Sagar said.
"They could have stopped these killers," she said.
While senior police officials insisted on Saturday they had done everything possible to solve the disappearances, the Press Trust of India reported that five officers, including two mid-level commanders, had been suspended for negligence in handling the cases.
The alleged killers -- Mohinder Singh Pandher, a businessman who owned the house where the slayings are believed to have taken place, and his servant, identified only as Satish -- appeared before a court on Saturday charged with kidnapping, raping and murdering 10 children and five women.
R.K.S. Rathore, the Noida police chief, said Pandher was fond of prostitutes, "and when no call girls were to be found, Mohinder asked Satish to lure children," promising chocolate and other sweets.
He would also seek out poor young women with the promise of work. He said Satish also confessed to sexually abusing children.
After raping the victims, mostly girls or women, Pandher and Satish would strangle them and then dismember their bodies, he said.
"They would dispose of the bodies at night, throwing the head and the body parts, placed in different bags, in the drain behind the house," Rathore said.
Plastic bags containing skulls and bones, along with everything from bracelets to backpacks, were discovered as police dug up the drains abutting Pandher's house on Friday and Saturday.
Police were quick to take credit for nabbing the killers, saying they were led to Satish when he started using a missing girl's mobile phone, which they had been tracking -- an explanation that struck many here as far-fetched for India's notoriously low-tech police force.
Rather, residents said, police only took action a month after people found body parts and clothes flowing in the drain in front of the house.
"Everyone suspected this man, but police said he was of good moral character," said Deepak Sharma, a 26-year-old computer programmer who lives down the block from the house.
"But the police could not ignore the evidence that we could all see," said Sharma, adding that the daughter of one of his former maids is among the missing.
"My nephew has been gone 10 months, and no one looked for him," 40-year-old Jago Devi said.
The boy, five-year-old Satinder Prakash, was last seen in February heading to buy a glass of sugarcane juice.
"He was so energetic, curious -- nothing made him afraid," Devi said.
"If only he had been a timid child," he said.
Comments will be moderated. Keep comments relevant to the article. Remarks containing abusive and obscene language, personal attacks of any kind or promotion will be removed and the user banned. Final decision will be at the discretion of the Taipei Times.