World News Quick Take
■ South Korea
Soldiers return to the North
Two North Korean soldiers rescued at sea by the South's navy earlier this month were repatriated via the border village of Panmunjom at 3pm yesterday. The two teenage soldiers were found on Dec. 9 on a small wooden boat off the city of Sokcho, and were later treated for frostbite and hypothermia. They were sent back at their own request, the UN Command said. It said one had to be carried across the border on a stretcher.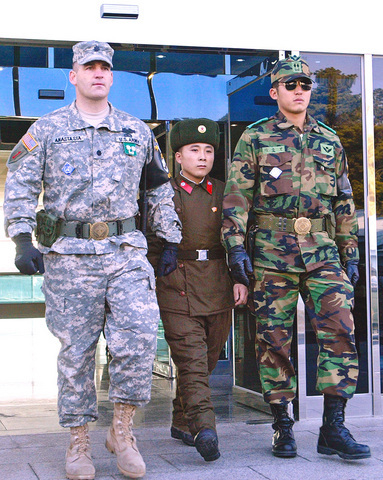 PHOTO: AFP
■ Japan
Second minister to resign
Minister for Administrative Reform Genichiro Sata is expected to resign after allegations that a group of his political supporters submitted false financial reports, media reports said yesterday. Sata would be the second of Prime Minister Shinzo Abe's appointees to step down in a week. Abe's approval ratings have been falling since he took office in September, in part because of concerns that he was reviving the ruling party's old vested-interest politics. Sata's political support group reported some ?78 million (US$650,000) in office expenses in financial statements from 1990 to 2000 for an office that did not exist, media reports said.
■ New Zealand
Tourist boom to Fiji
The military coup in Fiji has sparked a mini tourist boom from New Zealand as holiday makers snap up cheap deals to the island. Tourism was rocked immediately after military leader Voreqe Bainimarama seized control of the country three weeks ago. However, post-coup deals offering up to 50 percent off accommodation, and a down-grading of New Zealand's travel risk advisory, has resulted in an upsurge of interest in Fiji as a holiday destination. A spokesman for the Flight Centre travel agency said about 50 percent of all enquiries were now about Fiji holidays. He said Fiji resorts also offering food and beverage vouchers along with the accommodation discounts to lure tourists.
■ Sri Lanka
Policeman killed by bomb
Suspected Tamil Tiger rebels set off a powerful roadside bomb in the north yesterday, killing a police constable, officials said. The victim was on a routine patrol together with security forces in the district of Vavuniya, police said, adding that a search operation was underway. At least nine people, including four security force members, were killed in clashes with the rebel Liberation Tigers of Tamil Eelam on Monday.
■ Australia
War against the toads
Environmentalists have asked the military to wage war on cane toads, which have spread across the north in near-plague proportions. The toads, introduced in a batch of 101 from Hawaii in 1935 in a failed bid to control cane beetles, have spread 3,000km from northeast Queensland to Darwin. There are now more than 200 million. "We need as many people on the ground as we can possibly get, and if the military can work out strategies for controlling toads on their ground, well that's fine with us," Frog Watch spokesman Ian Morris said yesterday. The spread of the toads has led to declines in populations of native snakes, goanna lizards and quolls.
■ Russia
Suspected terrorists held
Police have detained six people on suspicion of plotting a terrorist attack in a southern region on the Volga river with a large Muslim population, officials said on Tuesday. The suspects, aged between 22 and 24, are also accused of spreading extremist religious views, the Interior Ministry's branch in the Astrakhan region said. Police found explosive materials and literature promoting the strict Wahhabist sect of Islam during a search of one of the six detainees, who were taken into custody on Monday.
■ United Kingdom
Harry Potter: the bets are on
The evil Lord Voldemort and Harry Potter himself are leading the field in betting on who will kill the schoolboy wizard in the last of the popular book series, British bookmaker William Hill said on Tuesday. Author J.K. Rowling said last Thursday that the final instalment of the adventures is to be called Harry Potter and the Deathly Hallows, sparking speculation that the hero will meet his end. "J.K. mentioned that Harry might be killed off and the general consensus seems to be that ... to ensure that Voldemort dies he will need to be sacrificed," said William Hill spokesman Rupert Adams. "Most of the early money has been for Harry, who has been cut from 10-1 to 6-1 and Voldemort remains the odds-on favorite [at 4-5]."
■ United Kingdom
Quake rattles Scotland
The calm of Boxing Day in the Scottish market town of Dumfries was shattered on Tuesday morning when it was hit by an earth tremor -- the largest recorded in Britain this year. Accompanied by a "tremendous crack and rumble" heard across south-west Scotland, the earthquake was felt by thousands of residents in the town, shaking buildings and rattling windows, at 10:40am. Some feared a plane had crashed or a juggernaut rammed into their homes. The quake, centred on the Lincluden area on the north-western fringes of the town, had a magnitude of 3.5. The shock was picked up by seismological monitoring stations as far away as Lerwick on Shetland and Hartland in north Devon.
■ France
Sarkozy files lawsuit
Interior minister and presidential hopeful Nicolas Sarkozy has filed a defamation suit against a suspect in a murky political smear campaign, the Paris prosecutors' office said on Tuesday. The so-called Clearstream affair centered on damaging, but false, allegations that Sarkozy had secret bank accounts. The scandal has implicated members of France's conservative government and shaken the political elite. Imad Lahoud was charged earlier this year on allegations of slander and doctoring phony lists of names including some prominent politicians.
■ Russia
Jailed oligarch transferred
Mikhail Khodorkovsky, former head of dismantled Russian oil giant Yukos, has been transferred to a new detention facility in eastern Siberia, where he could face new money-laundering charges. Khodorkovsky has been transferred to a detention facility in the regional capital of Chita, though his lawyers have been unable to see him. "No one has met him, but the head of the detention facility confirmed that he had been moved there and said that he was feeling well," Maxim Dbar, a spokesman for Khodorkovsky's legal team, said on Tuesday.
■ United States
Los Angeles overdoses up
A steep rise in drug overdose deaths in Los Angeles is being blamed on an influx of highly potent heroin from Afghanistan, it was reported on Tuesday. The Los Angeles Times cited figures from experts saying that heroin-related fatalities in the city and surrounding areas soared by around 75 percent in three years from 137 in 2002 to 239 last year. Drug users over 40 who lack the resilience to deal with an unexpectedly strong dose were the most vulnerable, according to the Los Angeles County Office of Health Assessment and Epidemiology.
■ United States
Blair in jet mishap
A British Airways plane with British Prime Minister Tony Blair on board overshot the runway at Miami International Airport on Tuesday, officials said, noting that there were no injuries. Airport spokesman Marc Henderson said British Airways Flight 209 from London to Miami "did in fact overextend from the runway" shortly after 6pm but did not leave the pavement. "The plane was pushed back from where it was and went to the gate under its own power," Henderson told reporters. Secret Service spokeswoman Kim Bruce confirmed Blair, who is under the agency's protection, was on board.
■ Canada
Alleged spy deported
The government has deported an alleged Russian spy who was arrested in last month after residing in the country for 10 years, Public Safety Minister Stockwell Day said. Day thanked various government services for their work in ridding the country of the suspected spy, who had obtained a fake Canadian passport using the name Paul William Hampel. "I want to commend the work of the Canadian Security Intelligence Service, the Canada Border Services Agency and Correctional Services Canada on this successful operation," he said in a statement. "The removal of this individual is an example of how the security certificate process can and should work," he said.
■ United States
Polar bears melting away
US President George W. Bush's administration is proposing to list the polar bear as an endangered species because of warming temperatures in the animal's habitat, the Washington Post reported yesterday. The proposal, described by an Environmental Protection Agency official who spoke on condition of anonymity, marks the first time the administration has identified climate change as the driving force behind the potential demise of a species, the paper said. "We've reviewed all the available data that leads us to believe the sea ice the polar bear depends on is receding," the official said. "Obviously, the sea ice is melting because the temperatures are warmer," he said.
■ United Arab Emirates
IPod to influence building
Apple's iPod could be stretching its influence into unexpected territory -- architecture. A newly announced multimillion dollar building project in the Middle Eastern kingdom will take inspiration for its design from that of the iconic MP3 player, according to reports. Government officials have said that the "iPad" will be perched on top of a docking station, and will ape the iPod by sitting at an angle of six degrees. The 23-story building, due to open in 2009, is expected to house more than 200 homes and offices, said its backers. Hong Kong-based consultancy James Law Cybertecture is designing the building.
Comments will be moderated. Keep comments relevant to the article. Remarks containing abusive and obscene language, personal attacks of any kind or promotion will be removed and the user banned. Final decision will be at the discretion of the Taipei Times.