Arab chief pleads for Lebanon talks
Arab League chief Amr Mussa pleaded for dialogue among Lebanese leaders yesterday as he wrapped up a new round of shuttle diplomacy between the government and the opposition.
Mussa declined to call his latest mediation mission a failure but said that pro and anti-Syrian figures within the power-sharing regime in Beirut needed to start talking to each other.
"Contacts between Lebanese leaders do not exist," the League chief told a Beirut press conference.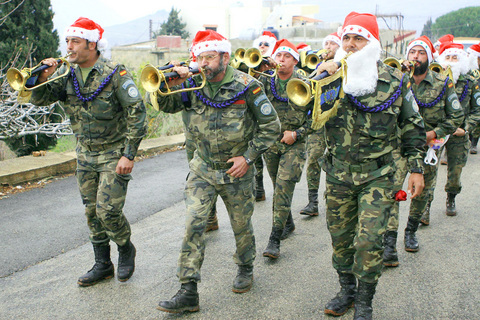 Spanish UN peacekeepers dressed in Santa Claus hats walk as they play music during a Christmas party for children in Deir Mimas village, south Lebanon, on Friday. Spain is the third largest contributor to the UN peacekeeping force in Lebanon after Italy and France.
PHOTO: AP
"I appeal strongly to Lebanese leaders to establish the necessary contacts between them. We presented Lebanese leaders with proposals aimed at at resolving the issues in dispute and it is down to them to accept them," Mussa said.
"Some proposals were accepted, others met with prevarication. We had hoped that these proposals would achieve a breakthrough but contacts between the various leaders do not exist, making an understanding very difficult," he said.
The Lebanese government has been virtually paralyzed by the standoff between pro-Syrian President Emile Lahoud and parliament speaker Nabih Berri, and the anti-Syrian government of Prime Minister Fuad Siniora.
Hundreds of opposition supporters have been camping out near Siniora's offices since Dec. 1, demanding that the rump Cabinet left by the departure of six pro-Syrian ministers last month make way for a national unity government.
The head of Lebanon's largest Christian community, Maronite Patriarch Nasrallah Sfeir said: "The anarchy gripping state institutions is without precedent."
"If we continue down the path of division, of struggling for power, we will no longer deserve our homeland," the patriarch said in a Christmas message read out on public television.
"It's what has paralyzed our constitutional institutions that have set about fighting each other. We have a president who acts alone on the basis that the government is illegitimate and we have a cabinet that claims in turn that the president has no legitimacy. It's a mess unprecedented in Lebanese history," he said.
The Siniora government challenges the legitimacy of Lahoud whose mandate was extended until next year by a controversial Syrian-inspired constitutional amendment in 2004.
The president and parliament speaker counter that the power-sharing arrangements in force since the 1975-1990 civil war require the cabinet to make way for a government of national unity.
Mussa returned to Beirut on Thursday night after talks in Damascus with Syrian President Bashar al-Assad.
He said he was very satisfied with Syria's support for his mediation, but Beirut newspapers on Friday said Mussa's visit to Damascus had not led to any breakthrough.
Comments will be moderated. Keep comments relevant to the article. Remarks containing abusive and obscene language, personal attacks of any kind or promotion will be removed and the user banned. Final decision will be at the discretion of the Taipei Times.