Firefighters battle on in Victoria
TINDERBOX DRY The state is so dry it is tough work for the thousands fighting the flames, and arsonists have deliberately hampered containment
More than 3,000 firefighters battled some of Australia's worst wildfires in 70 years yesterday, as flames fanned by strong winds and searing temperatures destroyed one home and threatened dozens more.
Victoria's Country Fire Authority reported 14 major fires across the state, the worst to Melbourne's northeast, where there were fears a number of fire fronts could merge into a single huge blaze.
One home was destroyed at Stonyford, in Victoria's southwest, despite the efforts of the 160 firefighters working in temperatures of 41.1?C, the hottest December day in more than 50 years.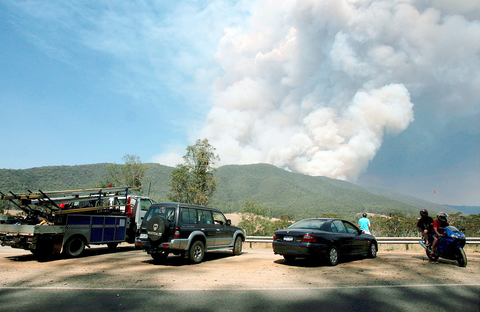 People stop to watch smoke rising from a bushfire burning up the hill about 8km away from Bright, Australia, yesterday. Victoria's bushfires have threatened rural communities across the state's northeast and east and run the risk of further flaring up as wind shifts arrive.
PHOTO: EPA
The fires, which have burned out more than 200,000 hectares of land, have left a pall of smoke over Australia's second-largest city so thick that medical authorities warned people with respiratory problems to stay indoors.
Firefighters desperately tried to clear scrub from the drought-parched landscape to starve the flames of fuel but said "ember attacks" caused by high winds threatened to breach their containment lines.
Military personnel mobilized to help fight the bushfire emergency worked alongside volunteer civilian fire crews as specially-modified planes and helicopters were used to dump water on the fires from above.
Stuart Ord, an environment department spokesman, said the crews were very stretched trying to contain the fast-moving fire fronts in extreme conditions.
"The fire will move very quickly and the intensity of the fire will be very hot," he said.
"There is no doubt the fire will hit settlements, the question is which ones," he added.
Residents either fled their properties or prepared to try to fight back the flames.
"We're getting prepared to defend our home and watching the fire over the hill," Narelle Benstead from the hamlet of Germantown told reporters.
"We've got our buckets and our hoses and we're all organized to stay and defend," she said.
Victorian Premier Steve Bracks has compared the bushfire crisis to the "Black Friday" catastrophe of 1939 in which 71 people died.
While there has so far been no loss of life in the current emergency, Bracks said the danger would remain critical.
"We expect the next two weeks are going to be really like standing on our toes waiting and hoping the communities are protected as the fires move through," he said.
Bracks condemned arsonists who hampered containment work by lighting grassfires on the outskirts of Melbourne early yesterday that briefly threatened homes before they were brought under control.
"It's just one of the most reprehensible things imaginable at a time when the state is tinderbox dry," Bracks said.
"The full force of the law will be brought to bear to find these people, to bring them to justice. We have increased penalties in place," he told reporters.
Prime Minister John Howard said the federal government was ready to provide additional support to help Victoria cope with the crisis.
"Our thoughts are very much with those 3,000 firefighters," Howard told ABC television.
"If there's any further help that the commonwealth can provide to Victoria, Mr Bracks only has to ask. When it comes to disasters of this kind, we all work together and do it very well," he said.
Comments will be moderated. Keep comments relevant to the article. Remarks containing abusive and obscene language, personal attacks of any kind or promotion will be removed and the user banned. Final decision will be at the discretion of the Taipei Times.