Fiji coup leader increasingly isolated
UNDER PRESSURE Bainimarama asked for the world to understand the situation as he attempted to consolidate his control by appointing a colleague as prime minister
Fiji's self-proclaimed military leader yesterday appealed to the world for understanding of his coup, claiming democracy was being used as a Trojan horse for corruption in the Pacific island state.
In his third press conference in the two days since he seized power, military commander Voreqe Bainimarama said he was not against democracy and also warned that "selfish people" were trying to disrupt Fiji's peace.
"I continue my appeal to the international community to understand the situation in Fiji," he told reporters in Suva's Queen Elizabeth Barracks.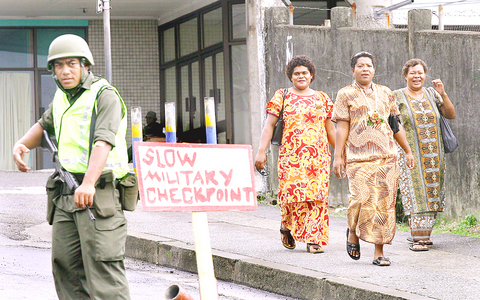 Women walk past an army checkpoint in central Suva yesterday, as Fiji's military leader Voreqe Bainimarama sacked senior police officers and civil servants a day after warning he would not tolerate criticism of the bloodless coup he led this week.
PHOTO: AFP
"We do not deny that democracy is good for the people but democracy must not be used to hide corruption or used as a means to divide the people of this country," he said.
Bainimarama was speaking after his caretaker prime minister, in his first public statement a day after being sworn in, said Fiji did not need Western-style democracy and free elections could wait.
The comments by military medic Dr. Jona Senilagakali -- who said he only took the job of prime minister because he was ordered to do so by his commanding officer -- came as Fiji's powerful tribal chiefs' refused to recognize the new regime.
The chiefs' criticism of Bainimarama's takeover on Tuesday is important because they hold huge influence among the Fiji's politically dominant indigenous majority, and their endorsement would give military rule an air of legitimacy for many people.
Bainimarama continued a clean-out of the civil service yesterday, announcing that the elections commissioner and the chief of the Public Service Commission had been fired.
Senilagakali, who is Bainimarama's only appointment so far, said yesterday the timing of the elections would "totally be up to the military president."
"Hopefully in 12 months, two years, we'll be able to have a general election," he said.
Bainimarama removed Vice President Ratu Joni Madraiwiwi from his office and official residence late on Wednesday, which attracted the ire of the Great Council of Chiefs, which under the constitution appoints the president and vice president on the advice of the elected government.
"Ratu Joni's removal from office is illegal, unconstitutional and most disrespectful," Council Chairman Ratu Ovini Bokini told reporters.
"The council still recognizes Ratu Josefa Iloilo as president," he said.
The criticism leaves Bainimarama increasingly isolated, with no significant group in Fiji expressing even tacit public support.
Comments will be moderated. Keep comments relevant to the article. Remarks containing abusive and obscene language, personal attacks of any kind or promotion will be removed and the user banned. Final decision will be at the discretion of the Taipei Times.