Man seeks to jinx Bush visit with magic
An Indonesian man claiming magic powers drank freshly slaughtered animal and snake blood yesterday as part of a ritual he said would jinx the upcoming visit of US President George W. Bush.
Ki Gendeng Pamungkas slit the throat of a goat, a small snake and stabbed a black crow in the chest, mixed their blood with herbs before drinking the potion and smearing it on his face.
"I don't hate Americans, but I don't like Bush," said Pamungkas, adding he believed the ritual would succeed because ``the devil is with me today.''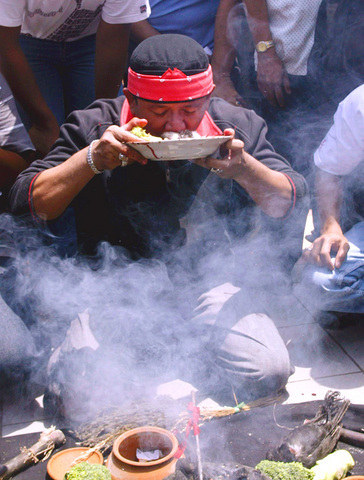 Ki Gendeng Pamungkas drinks sheep's blood during a rally against US President George W. Bush near the presidential palace in Bogor, Indonesia, yesterday.
PHOTO: EPA
Bush is scheduled to visit the world's most populous Muslim nation for several hours on Monday for talks with the Indonesian president and civic leaders at a palace in the hill town of Bogor.
Bush is unpopular in Indonesia because of the US involvement in Iraq and Afghanistan, and Muslim and nationalist groups are calling on the government to cancel the trip.
Pamungkas said he believed the ritual -- performed around 1km from the palace -- would cause Secret Service personnel guarding Bush to fall into a trance and believe the US leader was under attack, causing chaos.
Sorcery is banned under Islam, but many Indonesians still believe in the practice, which predates Islam's arrival in the archipelago.
Comments will be moderated. Keep comments relevant to the article. Remarks containing abusive and obscene language, personal attacks of any kind or promotion will be removed and the user banned. Final decision will be at the discretion of the Taipei Times.