Obama mobbed in Iowa, stirring 2008 speculation
Democratic Senator Barack Obama insists, as always, that he is not running for president. But there are compelling clues that he is not exactly not running, either.
The most obvious was his keynote appearance in Indianola, Iowa, on Sunday at the legendary Harkin "steak fry," a popular Democratic ritual in Iowa -- and a prominent staging ground in this first presidential caucus state. The crowd rushed Obama, a representative from Illinois, when he arrived then mobbed him for hours as other politicians wandered the fairgrounds introducing themselves and shaking hands.
But beyond his first trip to Iowa -- a visit that was guaranteed to set off new speculation about his presidential ambitions -- Obama is in the midst of an unconventional publicity tour of sorts.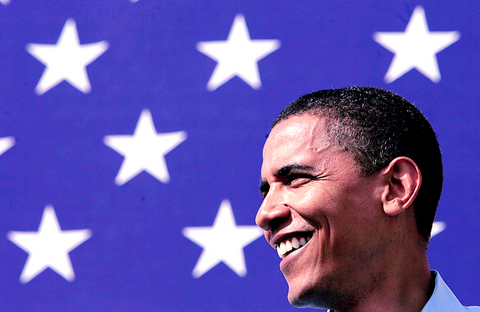 photo: AP
Fresh off a closely watched journey through Africa, including a stop at the home of his Kenyan-born father, Obama is about to publish a second book that supporters believe will outpace his best-seller Dreams From My Father, published in 1995.
With the new book, titled The Audacity of Hope, will come an appearance next month on the Oprah program, magazine profiles and a national speaking tour.
And throughout, Obama is keeping up a full schedule of political speeches on behalf of Democrats nationwide; his fame has made him one of the most requested fundraiser guests in the party.
All of which means that, despite his efforts to coolly play down expectations for his future, Obama has allowed his already stratospheric profile to grow a little higher of late and has done less to tamp down the celebrity buzz than he did when he first arrived in the Senate last year.
"What a wonderful reception; I'm going to have to come to Iowa again," Obama said as he took the podium under a sunny sky here on Sunday afternoon in front of an estimated 3,500 people.
In response, someone in the audience shouted, "Obama '08," a sentiment reflected in T-shirts and buttons featuring his name throughout the crowd in defiance of his repeated claim that he is focused on his duties as a first-term senator.
His 40-minute speech was punctuated by applause and standing ovations but also, at its most serious moments, brought the audience to a silence hushed enough for rustling trees to be heard.
It focused on the importance of a Democratic victory in this year's midterm elections. Characteristically, he spoke in mostly moderate language.
"I don't think that [US President] George Bush is a bad man," he said.
Referring to Republicans, he said: "They believe in different things."
But he touched on core Democratic themes, praising labor unions, defending the role of government, excoriating the Bush administration over the war in Iraq, the politicization of the threat of terrorism and the so-called ownership society.
If it was not a presidential stump speech, it certainly had the underpinnings of one.
"Our parents and our grandparents faced greater challenges than we face, and yet somehow they were able to overcome it," Obama said. "That's the essence of America."
Comments will be moderated. Keep comments relevant to the article. Remarks containing abusive and obscene language, personal attacks of any kind or promotion will be removed and the user banned. Final decision will be at the discretion of the Taipei Times.