No real progress in hunt for bin Laden
WELL HIDDEN The leadership of al-Qaeda remains free despite more than 100,000 troops being posted at the Afghan-Pakistan frontier where they are believed to be
The al-Qaeda terror camps are gone from Afghanistan, but the enigma of Osama bin Laden still hangs over these lawless borderlands where tens of thousands of US and Pakistani troops have spent nearly five years searching for him.
Villagers say the CIA missed by only a few kilometers when it targeted bin Laden's top deputy, Ayman al-Zawahri, with a missile strike in January. Then in May, US Special Forces arrested one of al-Zawahri's closest aides, suggesting the trail has not gone entirely cold.
As for bin Laden himself? He may be nearby. Yet hopes of cornering the Saudi-born al-Qaeda leader seem distant as ever. The last time authorities said they were close to getting him was in 2004, and in hindsight those statements seem more hope than fact.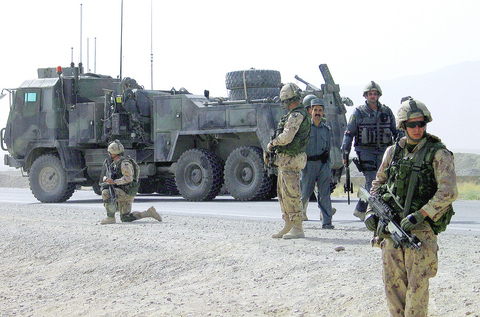 Soldiers of the International Security Assistance Force stand guard near the site of an explosion in Kandahar on Tuesday. A series of bomb blasts allegedly linked to the Taliban and al-Qaeda killed two civilians and two policemen in southern Afghanistan. Two of the blasts were targeted at foreign troops helping to round up militants in the unruly south of the country.
PHOTO: AFP
Five years after the Sept. 11 attacks, the most publicized manhunt in history has drawn a blank. The CIA has reorganized agents searching for the al-Qaeda leaders in the face of the evolving nature of the terrorist threat. And the US military's once-singular focus is diffused by the need for reconstruction and a growing fight against the Taliban, the resurgent Afghan Islamic movement that once hosted bin Laden.
US soldiers climbing through the forested mountains of Afghanistan's Kunar province -- where in the 1980s bin Laden fought in the US-backed jihad against the Soviets -- still hope to catch or kill him. But they say bolstering the Afghan government is their primary mission now, amid the worst upsurge in Taliban attacks in five years.
"It is like chasing ghosts up there," said Sargent George Williams, 37, of Watertown, New York, part of the US Army's 10th Mountain Division pushing into untamed territory along the border with Pakistan. "Osama bin Laden is always going to be a target of ours as long as he is out there, but there are other missions: to rebuild Afghanistan and attack the militants still here."
Al-Qaeda leader Osama bin Laden speaks to a selected group of reporters in the mountains of Helmand Province in southern Afghanistan in this photo from Dec. 24, 1998.
PHOTO: AP
The top leaders of al-Qaeda remain free despite more than 100,000 US, Afghan and Pakistani forces at the frontier. High-tech listening posts, satellite imagery, unmanned spy planes -- not to mention a US$25 million bounty on each man from the US government -- all aid the hunt.
Yet both bin Laden and al-Zawahri are communicating to the outside world, posting messages on Islamic Web sites to inspire further attacks on the West. Although the al-Qaeda leaders are too isolated to run directly a terrorist operation like Sept. 11, Pakistan says the latest alleged plot, to bomb US-bound jetliners from Britain, may have been blessed by al-Zawahri.
The frustrating campaign has frayed critical cooperation between Afghanistan and Pakistan, neighbors separated by an ill-defined frontier and a history of mutual suspicion.
Pakistan has captured most of bin Laden's lieutenants, including Sept. 11 attacks "coordinator" Khalid Sheikh Mohammed, and claims to have reduced the remaining al-Qaeda command to mere figureheads. Pakistan has lost 350 troops fighting al-Qaeda and Taliban-linked militants.
Yet Afghan officials allege that Pakistan is sanctuary for Taliban rebel leaders and lets them recruit from radical Islamic schools. They even suggest that Pakistan is hiding bin Laden, perhaps to ensure Pakistan remains of strategic importance to Washington.
"We believe he is being kept as a prize, as an ultimate bargaining chip," said a senior Afghan government official, who declined to be identified due to the sensitivity of his comments.
Latfullah Mashal, a former Afghan Interior Ministry spokesman, goes so far as to pinpoint bin Laden's hideout in a remote valley in Pakistan's North Waziristan region. He says there's a mountain fortress with a network of tunnels, guarded by African militants who never venture outside.
Pakistan, which formally ended its support for the Taliban after the Sept. 11 attacks, rejects both allegations. It has about 80,000 troops in its wild tribal regions along the Afghan frontier, including a US-trained and equipped quick-reaction force.
"I don't think any other country has played a bigger role than Pakistan," said Interior Minister Aftab Khan Sherpao.
Retired Lieutenant General Ali Mohammed Jan Aurakzai, who led the Pakistani army into the region after the Sept. 11 attacks, said sealing the border between Afghanistan and Pakistan would require between 150,000 and 200,000 troops "and still there's no 100 percent guarantee that infiltration would not take place."
Strained by the demands of Iraq, the US has only about 20,000 troops in Afghanistan. The roughly 10,000 in the border area must cover about 78,000km2 of some of the most forbidding territory on Earth: jagged mountains, both arid and forested, that become impassable in winter. There are steep valleys and rushing rivers spanned by rickety rope bridges; dark caves that could be booby-trapped. Deeply religious and xenophobic villagers also obstruct efforts to run down al-Qaeda remnants.
"Bin Laden has a network of contacts and places to go to if he needs to that's pretty close to 20 years old. He's a veteran of that region, so it's very hard to find him," said Michael Scheuer, who once headed the CIA unit that was dedicated to hunting the al-Qaeda leader. "Bin Laden's status as a hero in the Islamic world is also a telling factor in why he's not been caught."
A senior former Pakistani intelligence official put it more bluntly.
"These [ethnic] Pashtuns have their own traditions. They'll die but they'll not hand over bin Laden," said the official, who declined to be named because of the secretive subject matter.
For US troops, the Afghan mission is increasingly dangerous. At least 272 US service members have died in and around Afghanistan since October 2001, including three recently from Williams' unit. Some 44 US service personal died in Afghanistan in 2004, 92 last year and 61 so far this year.
Western, Afghan and Pakistani officials agree that the nearest they got to bin Laden was in the Tora Bora mountains, south of Kunar, in November 2001 when he was fleeing the US-backed war that toppled the Taliban regime.
The Pakistani intelligence official said Pakistan at first thought bin Laden was dead, perhaps killed by a bomb at Tora Bora, until a letter he penned to his family was recovered from Khalid Sheikh Mohammed when he was arrested in March 2003.
After that, repeated attempts have been made to get bin Laden and al-Zawahri:
* In late 2003, Pakistani forces raided Lattaka, a village in North Waziristan, to get bin Laden but he wasn't there.
* In 2004, amid a flurry of military action on both sides of the border, US Lieutenant General David Barno said he expected to bring bin Laden to justice within the year, although officials now say they had no hard intelligence to go on.
* Pakistan stepped up its military action in 2004 with a series of bloody operations in South Waziristan province. They busted al-Qaeda bases complete with computer and communications equipment.
* Also in 2004, Pakistan learned that either bin Laden or al-Zawahri was elsewhere in South Waziristan.
"An operation was carried out where we were close to getting him but the trail got cold," said Major General Shaukat Sultan, spokesman for President Pervez Musharraf.
* In the most recent case, in January, the CIA fired a missile from a Predator drone into the remote Pakistani village of Damadola, 250km northeast of Waziristan. The missile killed 13 civilians but no al-Qaeda leaders.
Comments will be moderated. Keep comments relevant to the article. Remarks containing abusive and obscene language, personal attacks of any kind or promotion will be removed and the user banned. Final decision will be at the discretion of the Taipei Times.