Leftists expected to disrupt Fox's address
Riot police, steel barriers and water cannons surrounded Mexico's Congress in Mexico City as protesters promised to stop President Vicente Fox from delivering his final state-of-the-nation address yesterday, fueling fears the country's electoral crisis could turn violent.
Fox's aides have said the president would arrive at Congress no matter what for the annual political ritual.
Legislators from Andres Manuel Lopez Obrador's Party of the Democratic Revolution (PRD) hope to prevent Fox from making the annual presidential address to Congress.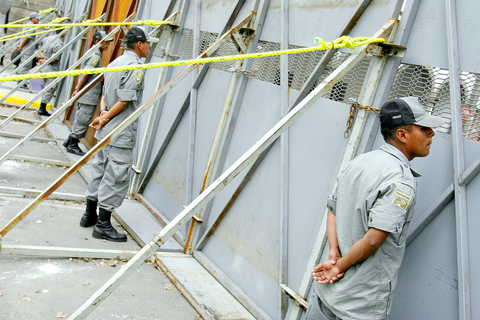 Mexican Federal Police officers stand next to a metal barricade constructed by police surrounding the Congress in Mexico City on Thursday. Security around the Congress was tightened ahead of the annual state of the nation speech by President Vicente Fox yesterday, which opposition lawmakers and protesters vowed to disrupt.
PHOTO: AP
Aside from their allegations that vote counts were tampered with, leftists accuse Fox of illegally aiding conservative Felipe Calderon's campaign and funding his attacks on Lopez Obrador, who he called a danger to Mexico.
PRD deputies are expected to either drown Fox out with heckling or physically stop him from taking the podium to speak.
Calderon, who won the election by 244,000 votes out of 41 million, is expected to be named president-elect any day after the top electoral court last week threw out Lopez Obrador's fraud claims and refused a full recount he demanded.
Lopez Obrador told his supporters to gather in the central Zocalo square three hours ahead of the speech at 7pm but he did not say if they would try to march on the Congress building several kilometers away.
Thousands of protesters are already blocking the capital's center with weeks-old tent camps draped with banners calling Fox a "traitor to democracy."
Some lawmakers, worried about a confrontation, have urged Fox to stay at the presidential residence and give his speech over a video link. Others have said he should submit his annual written report in person -- as specified in the Constitution -- and leave.
Both sides have exchanged threats and angry warnings.
"The president insulted our movement and of course our movement will respond," the PRD president Leonel Cota said.
"Security teams better not touch a hair on the heads of our comrades and fellow lawmakers," warned Gerardo Fernandez, a PRD spokesman.
Deputies from Fox's National Action Party (PAN) have vowed to try to stop the leftists from halting the address.
Government officials have suggested the president might not even try to speak if the atmosphere is too rowdy, instead handing a written copy of his speech to Congress.
Comments will be moderated. Keep comments relevant to the article. Remarks containing abusive and obscene language, personal attacks of any kind or promotion will be removed and the user banned. Final decision will be at the discretion of the Taipei Times.