Tourists, Mexicans brace for Hurricane John
Droves of tourists caught the last flights out, others took shelter in hotel ballrooms and shanty town residents were ordered evacuated as Hurricane John strengthened to a Category 3 hurricane and took aim at Mexico's Baja California peninsula.
John had maximum sustained winds of 185kph and was expected to make landfall somewhere in the southern part of the peninsula late yesterday.
"This is the last warning; the next time we'll come and force you to leave," local police blared over loudspeakers as they drove through La Palma, where tarp and tarpaper shacks line a dry riverbed.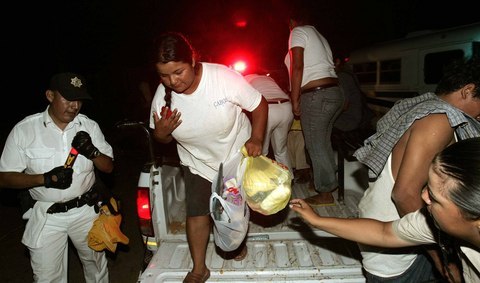 A woman is evacuated by police from her home along the banks of a river near Cabo San Lucas, Mexico, on Thursday as Hurricane John neared.
PHOTO: AP
The area is home to thousands of construction workers and hotel employees who work in Cabo San Lucas' luxurious tourist zone.
"I'm leaving for safety's sake," said Ana Maria de Martinez, 60, one of about 10,000 residents ordered to evacuate.
"Things can be replaced, but not lives," she said as she nervously gathered up her few belongings in the dark -- taking with her only the tarps that make up the walls of her shack and a plastic laundry basket of clothes as police escorted her to a waiting Mexican Navy truck.
Meanwhile, between 7,000 and 8,000 tourists who remained in Cabo San Lucas were relocated to hotel ballrooms and rooms away from the beach to wait out the weakened but still powerful storm.
Bill Crowley, a 42-year-old US tourist, was one of those expecting to wait out the storm at his beachfront hotel.
"There's no other place to go," Crowley said. "I would evacuate the first floor of these hotels, but we're on the third floor, so we should be all right."
Paul Mares, another US tourist, stocked up on a 12-pack of beer at a local store the evening before the hurricane was to strike, noting "it's good to be prepared."
Shelters had been set up in 131 schools and state governor Narciso Agundez said residents who refuse to head for higher ground will be forcibly removed from their homes.
"Where there are areas that are highly vulnerable, we will have to do things forcibly," he said.
Shop owners and hotels boarded up windows and hotel workers stripped rooms of light fixtures and furniture, in case plate-glass windows were shattered. Long lines snaked from gas stations and grocery store shelves were picked clean of many items.
A statement released late on Thursday by tourism authorities said hotel occupancy rates were only at about 40 to 50 percent, as most visitors had been advised to return home.
Churning 175km southeast of Baja California, John was moving northwest at 20 kph. Late on Thursday night, Mexico issued a tropical storm warning for central Baja, while the peninsula's southern tip remained under a hurricane warning. On Mexico's mainland coast, officials discontinued a hurricane warning for a swath of coastline including the bay that is home to the resort of Puerto Vallarta.
Comments will be moderated. Keep comments relevant to the article. Remarks containing abusive and obscene language, personal attacks of any kind or promotion will be removed and the user banned. Final decision will be at the discretion of the Taipei Times.