US focusing on Cuba, Venezuela
SHARPENING INTELLIGENCE The administration has launched an initiative to better integrate the nation's data collection and analysis on the two leftist countries
The US has named a special "manager" for its intelligence operations against Cuba and Venezuela, in effect putting the two Latin American nations on a par with "axis of evil" states confronted on multiple levels by the administration of President George W. Bush.
North Korea and Iran are the only other countries that have been assigned so-called "mission managers," who supervise intelligence operations against them on what the office of national intelligence director called "a strategic level."
In a statement released on Friday, the Office of National Intelligence Director John Negroponte said the manager would be responsible "for integrating collection and analysis on Cuba and Venezuela across the intelligence community" and "ensuring the implementation of strategies" that have not been identified.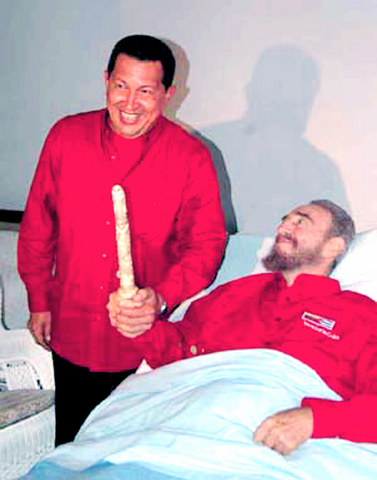 A picture released by the official Cuban newspaper Granma on Monday shows Cuban leader Fidel Castro receiving a birthday gift from visiting Venezuelan President Hugo Chavez in his hospital bed in Havana.
PHOTO: AFP
"Such efforts are critical today, as policymakers have increasingly focused on the challenges that Cuba and Venezuela pose to American foreign policy," the statement said.
The director's office said the manager would also be asked to ensure "that policymakers have a full range of timely and accurate intelligence on which to base their decisions."
The document did not say what kind of decisions US officials could be making with regard to either of the targeted countries.
For the moment, the task of handling the Havana-Caracas axis fell to 32-year CIA veteran J. Patrick Maher, whose previous job was deputy director of the CIA's Office of Policy Support.
His biographical sketch supplied in the announcement indicates he was one of the architects of the CIA's current anti-terror operations in violence-torn Colombia and managed the agency's strategy in the Caribbean basin.
On hearing about the appointment on Friday, Venezuelan President Hugo Chavez poked fun at Maher, calling the new intelligence chief "Jack the Ripper."
Chavez said the appointment of Maher was a sign that "the empire [the US] is organizing a plan for December or before December."
He didn't go into details.
Comments will be moderated. Keep comments relevant to the article. Remarks containing abusive and obscene language, personal attacks of any kind or promotion will be removed and the user banned. Final decision will be at the discretion of the Taipei Times.