Car bombing in Sadr City kills four people
SECURITY GAP The largely Shiite neighborhood is one of the most tightly guarded areas in the city but troops, police and militiamen have not be able to halt attacks
Four people were killed and 12 injured in a car bomb explosion yesterday in Baghdad's Sadr City slum, the stronghold of an influential Shiite cleric, police said, underlining the volatile situation in the capital wracked by sectarian strife.
The parked car exploded a little after noon near a market in Sadr City, damaging many shops besides inflicting the casualties, said police Lieutenant Adil Salih. He did not have any other details.
Residents said the number of casualties was low because most people had finished their shopping early to escape the 49?C heat that was forecast for Baghdad yesterday.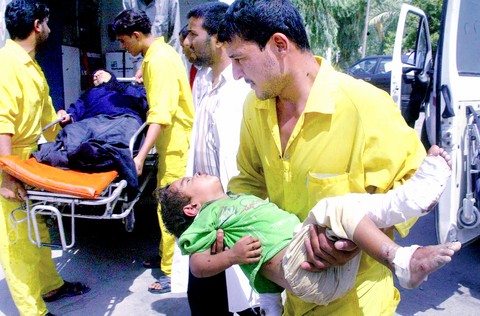 A wounded Iraqi youngster is rushed into a hospital in Baqubah yesterday. Six people were killed yesterday in a string of shootings in and around Baqubah.
PHOTO: AFP
Sadr City, a predominantly Shiite neighborhood, is one of the most tightly secured areas in Baghdad.
The security is to prevent attacks by Sunni insurgents, but the latest attack demonstrates the difficulties of controlling the seething sectarian violence, which has risen steadily since the Feb. 22 explosion at a Shiite shrine in Samarra. The attack triggered a wave of reprisal killings and has raised fears of an all-out civil war.
Deputy Health Minister Adel Muhsin said on Wednesday that about 3,500 Iraqis died last month in sectarian or political violence nationwide, the highest monthly death toll for civilians since the war started in March 2003.
Last week, the ministry said about 1,500 violent deaths were reported in the Baghdad area alone last month. US commanders are rushing nearly 12,000 US and Iraqi troops to the capital to try to end the carnage.
Also yesterday, Iraqi army soldiers raided two villages west of Kirkuk and arrested 50 suspected insurgents, police Colonel Khalil al-Zawbaie said.
He said 45 different weapons, a large quantity of explosives, and instructions for making and planting bombs were seized.
Meanwhile, six people were killed in a string of shootings in and around Baqubah, north of the capital, police said. Three of the dead were brothers, who owned an agricultural equipment shop, while another was a salesman. The four were shot in the center of Baqubah market.
A fifth victim was gunned down by men after they stole his car outside Baqubah, while a civilian from the village of Zhagania, north of town, was shot dead in a coffee shop, police added.
In the town of Muqdadiyah, northeast of Baqubah, 20 people were wounded including three policemen when three mortars rounds slammed into a market yesterday, police said.
An Iraqi militant group on Wednesday released a video showing a Katyusha rocket purportedly fired at the US-controlled Green Zone in a gesture of solidarity with Shiite guerrillas in Lebanon.
The footage showed several masked men casually setting up a launcher in a parking lot containing a number of burned-out buses before firing the rocket, which streaked across the sky out of view.
Comments will be moderated. Keep comments relevant to the article. Remarks containing abusive and obscene language, personal attacks of any kind or promotion will be removed and the user banned. Final decision will be at the discretion of the Taipei Times.