Hezbollah leads way in rebuilding Lebanon
CYNICAL POLITICS? With the UN-brokered ceasefire, Hezbollah's is swapping its AK47s and missile launchers for spades, brooms and briefcases of Iranian cash
As refugees flood back to their war-ravaged villages, Hezbollah has flung itself to the front of the burgeoning reconstruction effort in southern Lebanon, funded with a deluge of petro-dollars from neighboring Iran.
"We want to bring south Lebanon back to life and rebuild it better than it was before the war," said Nabil Kaouk, Hezbollah's top official in southern Lebanon, standing before the group's flattened headquarters building in Tyre.
In nearby villages, his supporters were already hard at work. Hezbollah activists in T-shirts and green caps cleared rubble-strewn roads and piles of rotting refuse and ferried the dead and wounded through the scrub-covered hills in shiny modern ambulances.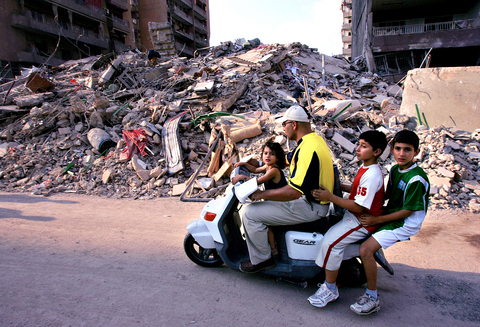 A Lebanese family ride on a scooter as they tour the destruction in their neighborhood in the southern suburbs of Beirut on Wednesday. Tens of thousands of people have returned to their shattered villages in eastern and southern Lebanon as well as Beirut's southern suburbs to find their homes either damaged or totally destroyed.
PHOTO: AP
But the most extravagant element of Hezbollah's plan is to provide a year's rent and a set of new furniture for every family whose house has been destroyed. The promise was made by Hezbollah's leader, Hassan Nasrallah, within hours of Monday's ceasefire.
The housing scheme will benefit 15,000 families, Nasrallah said, and will cost up to US$150 million, according to one estimate. Funding will come from oil-rich Iran, which until now has mostly supplied Hezbollah with thousands of missiles used against Israel.
On Wednesday in Beirut, hun-dreds of refugees shuffled through a registration center where officials noted their losses and made promises of help. The cash will be spent in towns such as Bint Jbail, near the southern border, where entire neighborhoods have been razed.
"There is no central government presence here. Hezbollah is doing everything," said local official Hamed Harab, standing outside the bomb-pocked town hospital.
Behind him stood a group of trim young men in dark t-shirts who refused to have their photographs taken. They watched a stream of overloaded cars carrying residents home.
"The people want things to move quickly. They know that we can deliver," he said.
This multimillion dollar aid drive marks a new phase in Hezbollah's struggle. The militant group has already won admiration across the Arab world for its fierce resistance to Israeli attack.
Now it is fighting to retain the support of Lebanon's Shia Muslims, who constitute about one-third of the population, and to maintain the "state within a state" that allowed the militant group to develop the military arsenal and network of village bunkers that thwarted the Israeli invasion.
The success of this strategy is evident from the proclamations of undying loyalty, even from families who have lost everything.
"When Sayed Hassan [Nasrallah] speaks, we listen," said Amar Balhas outside the remains of his house. "If he asks, I will give my life for Hezbollah."
But other residents are shocked by the destruction that Hezbollah's belligerence has wrought on their already impoverished lives.
"I will be sleeping in the streets tonight," said Nohead Hamoud, 46, on Wednesday after arriving in Bent Jbail to find a pile of broken bricks and furniture where her home once stood.
She cringed in fear as an Israeli fighter jet roared overhead.
Asked her opinion of Hezbollah's popularity, she replied, tersely: "That is a question I cannot answer."
Some fear the housing scheme will further weaken the influence of the central government in Hezbollah strongholds, deepening rifts between Lebanon's rival religious confessions.
Some Christian and Druze leaders resent Hezbollah's autonomy and have called for it to disarm.
That tension is one of several problems facing the 30,000-strong peacekeeping force in the process of deployment. Of this pool, foreign countries are due to contribute a total of 13,000 troops.
Comments will be moderated. Keep comments relevant to the article. Remarks containing abusive and obscene language, personal attacks of any kind or promotion will be removed and the user banned. Final decision will be at the discretion of the Taipei Times.