Hezbollah hits advancing Israeli tanks in Lebanon
HOLDING PATTERN Israel's tourism minister said the government was willing to hold off on plans to expand its ground offensive to allow time for diplomatic efforts
Hezbollah guerrillas fought Israeli troops pushing towards the Shiite Muslim town of Khiam in southeast Lebanon yesterday, though an Israeli Cabinet minister said plans for a deeper ground assault were on hold.
Hezbollah unleashed a score of rockets on northern Israel, killing two people, including a toddler, medics said.
In Beirut, an Israeli helicopter fired a missile at a disused radio tower in the heart of the capital, wounding two people, security sources said.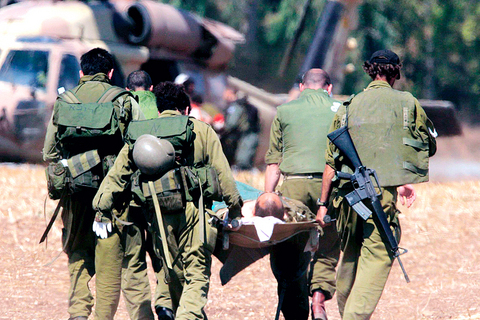 Israeli army medics evacuate an injured soldier at the Lebanese border yesterday. An Israeli Cabinet official said yesterday that the expanded ground offensive could be delayed to give some time to diplomatic efforts to achieve a ceasefire.
PHOTO: EPA
It was the deepest Israeli strike into the Lebanese capital in a month-old campaign against Hezbollah guerrillas. Another missile hit a radio tower in the Christian town of Amsheet, north of Beirut.
Israeli troops headed towards Khiam as artillery and air strikes pounded Hezbollah positions in the area, residents said.
The fighting intensified even though Israel's tourism minister said plans for an expanded ground offensive, approved on Wednesday, had been put on hold to allow more time for US-led diplomatic efforts to bear fruit.
The UN Security Council has been divided over a resolution aimed at halting the fighting and stabilizing the area with the deployment of an international force to back the Lebanese army.
"There is a certain diplomatic process under way," said Minister of Tourism Yitzhak Herzog, a member of the security Cabinet.
"We can allow a little more time to see if there's a possibility for a diplomatic process," he said.
Hezbollah guerrillas, firing anti-tank rockets and mortar bombs, hit at least two Israeli tanks near the town of Marjayoun on Thursday during fierce fighting in the area after a major Israeli incursion.
"I can see two tanks burning some 500 meters from Marjayoun," the resident said by telephone.
"For the past 10 minutes, Hezbollah has been raining rockets and mortars on the Israeli force between Marjayoun and Khiam," he said.
Hezbollah said in a statement it had destroyed 11 Israeli tanks, killing or wounding their crews, in fighting in the area.
Israeli planes and artillery pounded Khiam as fighting raged.
Israeli infantry had advanced from the border to the Christian towns of Marjayoun and Qlaiah and the village of Burj al-Molouk overnight, virtually unopposed.
They passed through the towns and appeared not to take positions inside them, witnesses said. The troops were followed by tanks, which drew intense Hezbollah fire.
Witnesses said Israeli soldiers were entering and leaving residential areas after imposing a curfew. The priest of the area's main church pleaded over its public address system for people to stay indoors and keep away from windows, residents said.
Meanwhile, more than 20 Katyusha rocket had been fired into northern Israel by 0830 GMT, a police spokesman said yesterday.
Comments will be moderated. Keep comments relevant to the article. Remarks containing abusive and obscene language, personal attacks of any kind or promotion will be removed and the user banned. Final decision will be at the discretion of the Taipei Times.