Serial killers put fear in Phoenix
TWISTED RIVALRY Police have been hunting for months for two murderers, who between them have killed 11 people in 55 attacks and injured many others
Seven Guardian Angels marched down a Phoenix street, with their distinctive red berets standing out against the fading light of dusk.
They peered down alleys and looked behind heaps of rubbish as passing cars honked their horns in support.
At one stage Robert McClintick, an Angel from Denver, Colorado, offered some sage advice to his comrades: "The shooter fires in the dark. That's not easy without a laser sight. If you see a small red light fix on your partner, please say something."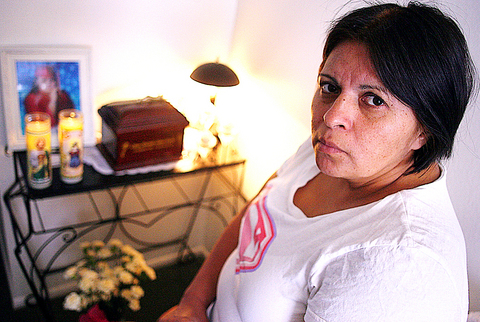 Juana Sanchez sits by a memorial to her 19-year-old daughter, Liliana Sanchez-Cabrera, who was gunned down in March by one of at least two serial killers terrorizing the city of Phoenix, at her home in Phoenix on July 13.
PHOTO: AP
He is only half joking.
The Angels are not on the trail of ordinary criminals. They are hunting serial killers. Plural. For Phoenix, a sprawling city in the desert of Arizona, has fallen victim to not one but two multiple murderers. They operate independently of each other, using different methods, but killing indiscriminately. So far there have been 55 attacks that have left 11 dead and dozens wounded.
Like all US killers, the pair have been nicknamed. One is the Baseline Killer, who has robbed, raped and murdered his victims.
He is believed to have been involved in at least 21 attacks and got his name from the road on which the first of his crimes took place.
The second is the Serial Shooter. He has never been seen by a living witness and fires on targets seemingly at random. He is suspected of 34 vicious attacks.
Phoenix police have assigned 120 officers to the case and put up a US$100,000 reward. The city, however, is not sitting back and waiting for the police to catch the killers.
Newspapers have been advising locals on how to cope and protect themselves. They should change their routines, not go out alone and get to know their neighbors. It is advice that many are heeding.
"I sure hope they get the sons of bitches," said Ronald Black, who was walking to the shops with his huge pitbull dog. "Normally I would leave her inside on a hot night like this but I don't want to go out alone."
There has been a surge in gun sales, parents are not letting children play outside, office workers walk in pairs to their cars while city streets, usually full of evening strollers, are eerily empty at night.
Few places are more suited for a dose of suburban gothic horror than Phoenix. It is a city that seems to have sprung up overnight from the desert soil on which it is built. Its streets are dead straight, its shops are strip malls and few buildings look more than a decade old.
The Serial Shooter emerged in May last year. He has killed five people and wounded 16 others. He even went on to kill three horses and five dogs. Yet no one has even caught a glimpse of him.
With the Baseline Killer there is more to work on. He committed his first crimes last August. He has robbed, assaulted, raped and killed, leaving five people dead. He is believed to be a black man, aged 25 to 40. A police sketch has been released, but he is known to wear disguises during his attacks.
The pool of victims has been as racially diverse as the rest of Phoenix's population. The list includes blacks, whites, Hispanics, several Native Americans and at least one Asian, and both men and women.
Experts believe it is perfectly possible that the killer pair are, involved in some sort of sick contest.
"It is possible. In the past some serial killers have contacted other serial killers, seeing them as involved in some sort of competition," said James Fox, an author of several books on the subject and a crime expert at Northeastern University in Boston.
In the case of the Baseline Killer, there is one intriguing possibility. A man who could know his identity is already in jail. He is James Dewayne Mullins and, while in jail in Kentucky on different charges, he confessed to killing 19-year-old Phoenix stripper Georgia Thompson.
However, her death, with a single shot to the head in her apartment complex's car park, has now been forensically linked to the Baseline Killer.
Mullins subsequently retracted his confession but transcripts of his police interview show tantalizing hints he knows other men who were involved. He talks of a unnamed "guy" who took him to Thompson's strip club. He then warns that he fears a terrible retribution if he ever implicated him in the crime.
The Angels have pledged to keep up patrols until the city is safer.
Last week, as his Angel night patrol walked down a dark street behind a complex of bungalows, McClintick admitted he was haunted by the sheer evil of serial killers.
"It is the wiring in their brain. Some people are just born that evil," he said.
Comments will be moderated. Keep comments relevant to the article. Remarks containing abusive and obscene language, personal attacks of any kind or promotion will be removed and the user banned. Final decision will be at the discretion of the Taipei Times.