Israeli PM taking an enormous gamble
Ehud Olmert's effort to free three captured soldiers has become a broad campaign to alter the strategic balance of the Middle East -- an enormous gamble for an Israeli prime minister facing growing domestic pressure to hit Islamic militants hard.
Israel's assault on Lebanon, which has already killed 73 killed in Lebanon and at least 12 Israelis and turned much of the country into a battlefield, could backfire if it becomes a protracted quagmire, provokes war with Syria or exposes Israelis to increasingly deadly attacks.
But Olmert likely sees Israel's simultaneous offensives in the Gaza Strip and Lebanon as a way to strike a decisive blow not only against Hezbollah and Hamas but also against the interests of Syria and Iran, which bankroll and arm the militants.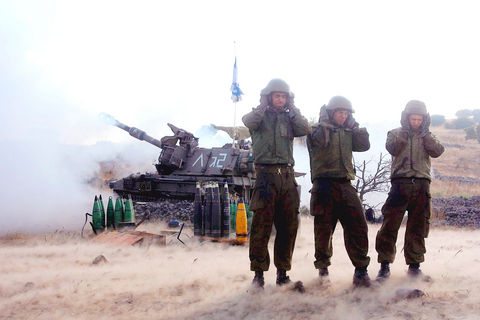 Israeli soldiers fire a 155mm shell towards targets in Lebanon near the northern Israeli town of Kiriyat Shmona after Hezbollah guerillas shelled northern Israel yesterday.
PHOTO: EPA
Because of widespread Israeli support for strong action against Hezbollah, which penetrated Israel's northern border and captured two soldiers this week, Olmert could be in even bigger trouble if he backs down.
"After the provocations from Hezbollah in the last five or six years, the government would not be able to survive if it did not take this action," said Israeli Middle East expert Eyal Zisser.
Support for Israel's campaign in Lebanon has come from some unlikely sources, including Yossi Beilin, Israel's best known leftist, and Orna Shimoni, who played a leading role in pressing Israel to withdraw from Lebanon in 2000 after an 18-year occupation.
Hezbollah raised the stakes this week by firing hundreds of rockets into Israel, including two that hit the northern city of Haifa on Thursday -- proving to Israel and the world that the range of its missiles had been vastly expanded. Days earlier, Hamas-linked militants in the Gaza Strip staged a similar display, hitting the southern Israeli city of Ashkelon for the first time.
Israel is fighting militants on two fronts after a pair of brazen cross-border raids -- one outside the Gaza Strip on June 25 and another on Israel's northern border with Lebanon on Wednesday. In the two raids, Hamas and Hezbollah seized three Israeli soldiers and killed another 10.
Israel has also raised the stakes by declaring an ambitious mission that extends far beyond freedom for captured soldiers: to halt rocket fire from Gaza, to push back Hezbollah guerrillas from Israel's northern border and to dissolve their increasingly sophisticated weapons capability.
Israeli Cabinet Minister Isaac Herzog said Israel wants to "change the rules of the game."
"Our aim is to change the basic parameters and the basic pattern of behavior so that there will be no more kidnappings and no more insurgencies and no more terror activity, and we expect that the Lebanese government will know that they will pay a price if they don't act," he said.
Brigadier General Ido Nehushtan, a member of Israel's General Staff, put it bluntly: "We need to put Hezbollah out of business."
The problem is that achieving that goal would likely require a massive ground offensive, something Israel is loath to do because of memories of its ill-fated occupation of southern Lebanon between 1982 and 2000 and the probability of suffering high casualties in heavily mined, hostile territory.
Israeli officials say they hold the Lebanese government responsible for the escalating violence because of its failure to implement a UN Security Council resolution calling for Hezbollah to be dismantled.
Still, Israel has to tread lightly in this regard, because the recently elected government of Lebanese Prime Minister Fuad Saniora opposes Hezbollah and enjoys the support of the US.
Yet Olmert described the Hezbollah raid on Wednesday as an "act of war" by Lebanon. The statement was echoed on Friday by Hezbollah leader Sheik Hassan Nasrallah, who said his group was ready for "open war" with Israel.
By defining the crisis as a war -- and extending the mission beyond the immediate need to free the Israeli servicemen -- Olmert could be taking the conflict in unknown and dangerous directions. Among the first casualties of the current violence is the recently revitalized tourism industry in northern Israel and a Lebanese economy that had rebounded from decades of strife.
Civilian suffering in both Gaza and Lebanon is increasing hatred for Israel and uniting the people in a common cause, not turning the people against militants as Israel would like.
The militants' No. 1 demand -- the release of Palestinian and Lebanese prisoners in exchange for the captive Israelis -- is not likely to be met any time soon, given Israel's desire to press ahead with its offensive to pursue larger strategic goals.
However, Ephraim Kam, a former senior military intelligence officer in Israel, predicted a prisoner swap could take place eventually. If and when it does, he said, Israel would demand as part of the deal the removal of Hezbollah from its northern border and Hamas agreement to halt rocket fire from Gaza.
Comments will be moderated. Keep comments relevant to the article. Remarks containing abusive and obscene language, personal attacks of any kind or promotion will be removed and the user banned. Final decision will be at the discretion of the Taipei Times.