Al-Qaeda applauds Mumbai bombings
KASHMIRI WING? Abu al-Hadeed, claiming to represent the terrorist network in Kashmir, called on Indian Muslims to fight for freedom through 'jihad' and to promote Islam
A man claiming to represent al-Qaeda in Kashmir told an Indian news agency yesterday that the terror network had set up a wing in Kashmir and appealed to Indian Muslims to take up jihad.
In a statement read over the phone to Kashmir's Current News Service, a man who identified himself as Abu al-Hadeed, reportedly said: "Whosoever has carried out the attacks in Mumbai, we express our gratitude and happiness."
The Mumbai train bombings on Tuesday killed at least 200 people and injured more than 700. Kashmiri militants are being investigated for the attack, although two main rebel groups have denied responsibility.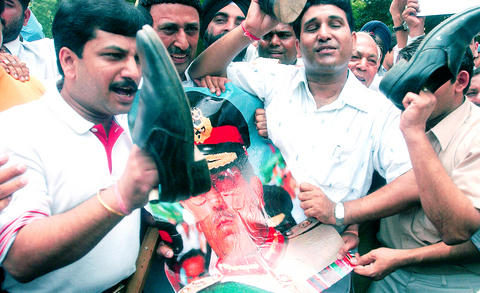 Indian activists of the All India Anti-Terrorist Front hit a poster of Pakistani President Pervez Musharraf with shoes during a protest in New Delhi yesterday, two days after serial blasts killed around 200 people in Mumbai.
PHOTO: AFP
There have been allegations that Islamic militants fighting to wrest predominantly Muslim Kashmir from India have ties to al-Qaeda, but yesterday's statement is the first time Osama bin Laden's network has claimed to have spread to Indian territory.
"We appeal to Muslims in India to fight for freedom and Islam and choose jihad as their way to achieve freedom and establishing Islamic ways," al-Hadeed was quoted as saying.
Al-Hadeed identified the network's Kashmir leader as Abu Abdul Rehman al-Ansari. Both names are Arabic, not Urdu, the language spoken by most of the subcontinent's Muslims.
Meanwhile, police detained more than 150 people for questioning in Mumbai yesterday as relatives began cremating or burying family members killed in Tuesday's bombings.
Investigators said they had prepared sketches of three suspects seen at some of the bomb sites and were working on several leads.
"We have detained some people for questioning and raids are happening in many places," said P.S. Pasricha, police chief of the western state of Maharashtra, of which Mumbai is the capital.
Television said many people were picked up from hotels and guest houses in the city.
Though bomb experts were still picking through mangled wreckage for clues, a senior Mumbai police officer said that an electrical timer could have been used to set off the explosions.
"We can be sure only after the forensic and ballistic results, but so far it looks like crude electrical timers were used," the officer said.
Relatives and friends of victims yesterday were trying to identify mutilated and charred bodies by personal belongings such as bloodied clothes, credit cards and mobile phones.
Police said 158 of the dead victims had been identified.
The death toll was the worst since a series of bombs killed more than 250 in Mumbai in 1993. Tuesday's attacks were also eerily reminiscent of serial bomb blasts on commuter rail networks in Madrid and London in the past two years.
The Indian media yesterday slammed the government, blaming New Delhi for not tackling terrorism seriously.
"So nice of the government to admit there's a security threat. Now will it do something about it?" the Indian Express wrote in an editorial.
Others asked India to step up pressure on Pakistan from where officials say many militants attacking India come from.
"There is a need to tell our friends in the war against terror that something needs to be done urgently about the jihad factory next door," the Hindustan Times said.
also see story:

It's business as usual in Mumbai
Comments will be moderated. Keep comments relevant to the article. Remarks containing abusive and obscene language, personal attacks of any kind or promotion will be removed and the user banned. Final decision will be at the discretion of the Taipei Times.