Chinese cool to CCP's 80th anniversary
APATHETIC Average citizens as well as some long-time party members feel that widespread corruption has betrayed the ideals and goals of the party's founders
While China's leaders celebrated yesterday's 85th anniversary of the founding of the Chinese Communist Party (CCP), apathy and disillusionment were expressed on the streets of Beijing over corruption within the regime.
"I feel nothing, don't talk to me about it," said a junk collector who earns his income by picking up used electrical appliances in central Beijing's business district.
A pedicab driver who had migrated to the capital from Shandong Province also said the date was meaningless to him.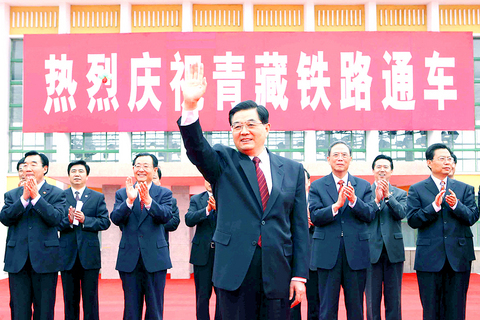 In this photo released by the Xinhua news agency, Chinese President Hu Jintao waves to the first train leaving for Lhasa at the launching ceremony of the Qinghai-Tibet railway held at the Golmud Railway Station in Golmud.
PHOTO: AP
"The party is okay but the party members aren't," said the 31-year-old. "Corruption is widespread among them."
Indeed, in a nationally televised ceremony to mark the founding of the party on Friday, Chinese President Hu Jintao (胡錦濤) called for a "resolute" fight to stamp out rampant corruption, saying this was crucial to the CCP's survival.
"Resist the corrosion of negative and rotten thoughts such as the worship of money, hedonism, extreme individualism," Hu told the nation's 70 million party members.
The government also announced a spate of arrests and sackings of corrupt officials in the lead up to the anniversary, in what was described as a ramping up of the government's ongoing anti-graft drive.
But Yu was not impressed.
"The party has good policies but, when it comes to implementation, it's all out of shape. There are few jobs at home, our old people have to pay tax and our children's class fees are expensive," he said.
Although junior education is supposed to be free in China and Beijing recently abolished the agricultural tax, local governments often ignore orders and find excuses to charge a variety of fees.
Corruption has been cited by the state media as one of the top grievances among ordinary people, who resent officials spending public money on extravagant lifestyles and condoning those who bribe them.
These phenomena seriously contradict the idealistic vision of the CCP's founding members, who established the party in 1921 to fight the corrupt Chinese Nationalist Party (KMT) regime.
Some veteran members, who joined the party as idealistic students and still remain loyal to their socialist ideals, also said they were disappointed with the current state of the organization.
"I wanted to change our society, it was very corrupt at the time and we had few freedoms. There was only one leader and one party and the nation was in trouble," said an 80-year-old former underground party activist.
"But things have changed little ... in some ways it is even worse now. In those days if they closed your newspaper, you could open another one. Now you can't even do this," she said.
However she said she remained a member because her belief in its ideals were as strong as ever.
Li Datong (李大同), a former editor of a supplement of the China Youth Daily who was removed from his post this year over its coverage, said the party would gain more legitimacy and popularity if it became more transparent.
"If it gives back people the rights and democracy as stated in its Constitution, they will be popular," Li said.
"If it had subjected itself under the media's supervision, you would not have the current level of corruption that there is now," he said.
"The party has changed. It was okay during Mao's [Zedong (毛澤東)] era but now, it is not really communist anymore," Du Mingrong, 54, said.
Du is a "petitioner" who came to Beijing several years ago to lobby authorities over the murder of her mother, but has had no success.
"The killing of students during June 4th and the persecution of Falungong -- I have no hope in this regime at all," she said.
Comments will be moderated. Keep comments relevant to the article. Remarks containing abusive and obscene language, personal attacks of any kind or promotion will be removed and the user banned. Final decision will be at the discretion of the Taipei Times.