Two killed in Baghdad attacks
BOMBS AND MORTARS One of the dead was killed when a mortar hit the Interior Ministry, as parliament meanwhile debated the deteriorating security situation
A roadside bomb killed one police officer in Baghdad while a mortar round killed a man at the Interior Ministry yesterday as Iraq's prime minister held meetings aimed at finding new defense and interior ministers.
The roadside bomb in southern Baghdad killed one police officer and wounded four. In the Interior Ministry killing, police said a car loaded with mortar rounds and explosives suddenly exploded, scattering shells over a large area.
One landed in the Interior Ministry and killed one man, while another landed on a soccer field and injured three city workers, police Captain Mohammed Abdul-Ghani said. The car, which was empty, was thought to have been used by insurgents.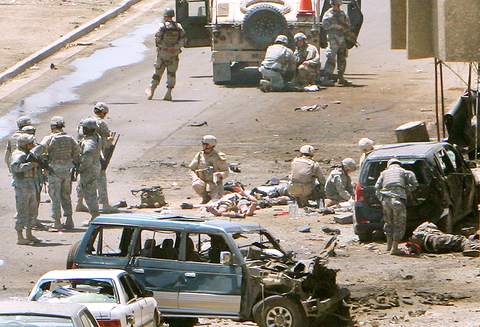 US troops treat wounded at the scene of a car bomb in Baghdad's Tahariyat Square which targeted a US convoy, setting a Humvee on fire, on Monday. CBS cameraman Paul Douglas, 48, and soundman James Brolan, 42, were killed in the attack and correspondent Kimberly Dozier, 39, was critically injured. It was one of eight blasts in Iraq that killed at least 33 people on Monday.
PHOTO: AP
Police found the bodies of three blindfolded and handcuffed men who had been tortured and shot in the head. The bodies were found in central and southern Baghdad, police Captain Jamil Hussein said.
A CBS reporter was listed in critical but stable condition one day after a car bomb attack killed her two man crew, a US soldier and an Iraqi contractor. She was flown to a US military hospital in Germany.
CBS cameraman Paul Douglas, 48, and soundman James Brolan, 42, both Britons, died while network correspondent Kimberly Dozier, 39, was critically wounded. US officials said she was first taken to the US military hospital in Balad, 80km north of Baghdad.
Dozens of journalists have been injured, killed or kidnapped in Iraq since the 2003 US-led invasion that toppled Saddam Hussein.
The death of the US soldier came as the US marked Memorial Day. It brought to 2,467 the number of US military members who have died since the war started in 2003, according to an Associated Press count.
Iraq's parliament debated the deteriorating security situation in the capital and some of its outlying provinces, but failed to set up a commission to deal with the problem because of Prime Minister Nouri al-Maliki's inability to appoint ministers of defense and interior.
Al-Maliki was expected to hold a series of meetings with political leader yesterday to find a way out of the impasse. More than a week after al-Maliki's unity government took office, Iraq's ethnic, sectarian and secular parties are struggling to agree on who should run the crucial interior and defense ministries, which control the various Iraqi security forces.
The Shiite-dominated Interior Ministry, which controls the police forces, has been promised to that community. Sunni Arabs are to get the defense ministry, overseeing the army.
Comments will be moderated. Keep comments relevant to the article. Remarks containing abusive and obscene language, personal attacks of any kind or promotion will be removed and the user banned. Final decision will be at the discretion of the Taipei Times.