Mexicans boycott US products
ANTI-AMERICAN Wal-Mart, McDonald's and Burger King were some of the US chains targeted by Mexicans who believe immigrants' rights are not respected in the US
Mexicans blocked border crossings, thronged city streets and shunned US-owned stores and restaurant chains in "A Day Without Gringos," supporting rallies across the US demanding immigration reform.
The spillover effect from protests and boycotts in the US was tough to measure south of the border on Monday because May 1 is a holiday that closes schools, as well as many businesses and offices.
But major US chains like Wal-Mart, McDonald's and Burger King were open -- and, while some locals stayed way, they were far from deserted in Mexico City.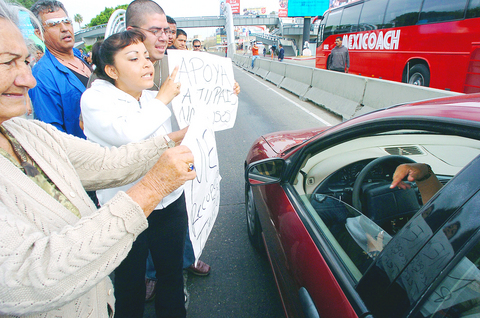 Demonstrators try to convince a motorist not to cross the US-Mexico border during a protest in support of a boycott of US products in Tijuana, Mexico, on Monday.
PHOTO: AP
Shopping at Wal-Mart, 28-year-old salesman Juan Ortiz said he supported legalizing migrants, but didn't think it was practical to boycott US goods.
"You have to buy what is least expensive here, and I have to buy things for my family," he said.
In the border city of Tijuana, across from San Diego, about 400 boycott supporters blocked half the access lanes to an international bridge to discourage Mexicans from crossing into the US to shop.
In another border city, Nuevo Laredo, protesters blocked a bridge over the Rio Grande into Texas for a few hours.
Far more visible, however, were the protests of thousands of unionized workers, who dedicated annual May 1 marches to immigration, carrying banners that read "Total Support for Migrants."
"Legalization for all migrants. We are going for the legalization of all in the US," said marcher Ada Omana, who lives in Chicago and serves as migrant-affairs secretary for the leftist Democratic Revolution Party.
"Legalization is not a prize, it's a recognition of our work," she said.
The protests coincided with a "Day Without Immigrants" in the US, where hundreds of thousands of mostly Hispanic immigrants skipped work and took to the streets.
Some in Mexico saw the marches as the beginning of a new, cross-border Latino movement.
"This is a great revolution of the bronze race, the brown race," Marti Batres, Democratic Revolution's Mexico City director, told a rally. "Our nation goes beyond the Rio Bravo [Rio Grande]," he said, noting that half of Mexico's territory became the western US.
Masked Zapatista rebel leader Subcomandante Marcos told a rally of about 2,000 supporters outside the US Embassy that immigrants in the US are "fighting in the belly of the beast."
"As Zapatistas, we support the boycott of all the US products that have proliferated in Mexico," he said, vowing to "expel from our land all the rich and powerful ... including, of course, US capitalists."
The Zapatistas led a brief armed uprising in 1994 in the southern state of Chiapas to demand greater Indian rights, and have since been locked in an uneasy truce with the government.
Federal officials tried to distance themselves from the events. Still, Roberto Madrazo, one of three major candidates vying to replace outgoing President Vicente Fox in elections July 2, promised not to buy any product with US roots.
At least a half-dozen state governors also endorsed the boycott of US companies.
Pro-immigration rallies were also held throughout Central America. In Honduras, union members boycotted US soft drinks and fast food.
Comments will be moderated. Keep comments relevant to the article. Remarks containing abusive and obscene language, personal attacks of any kind or promotion will be removed and the user banned. Final decision will be at the discretion of the Taipei Times.