HK cargo oversight worries US
RISKY? Some US officials are concerned by the news that a Hong Kong company is to operate the equipment used to scan cargo for nuclear radiation in the Bahamas
In the aftermath of the Dubai ports dispute, the Bush administration is hiring a Hong Kong conglomerate to help detect nuclear materials inside cargo passing through the Bahamas to the US and elsewhere.
The administration has acknowledged the no-bid contract with Hutchison Whampoa Ltd represents the first time a foreign company will be involved in running a sophisticated US radiation detector at an overseas port without US customs agents present.
Freeport in the Bahamas is 100km from the US coast, where cargo would be likely to be inspected again. The contract is currently being finalized.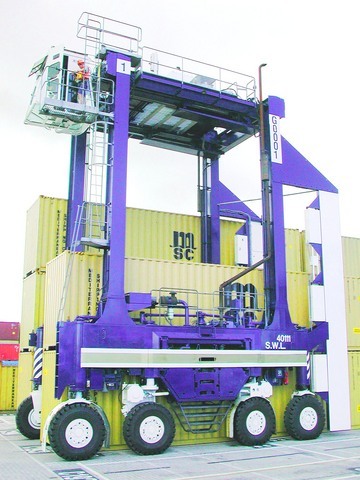 This undated photograph provided by the US National Nuclear Security Administration shows a specialized radiation detector, known as a ``modified straddle carrier,'' scanning cargo containers for evidence of radioactive materials at a seaport in the Bahamas. The radiation detectors are the white panels mounted vertically, right, on the front of the vehicle.
PHOTO: AP
The administration is negotiating a second no-bid contract for a Philippine company to install radiation detectors in its home country, according to documents obtained by the press. At dozens of other overseas ports, foreign governments are primarily responsible for scanning cargo.
While US President George W. Bush recently reassured the US Congress that foreigners would not manage security at US ports, the Hutchison deal in the Bahamas illustrates how the administration is relying on foreign companies at overseas ports to safeguard cargo headed to the US.
Hutchison Whampoa is the world's largest ports operator and among the industry's most-respected companies. It was an early adopter of US anti-terror measures. But its billionaire chairman, Li Ka-Shing (李嘉誠), also has substantial business ties to China's government that have raised US concerns over the years.
"Li Ka-Shing is pretty close to a lot of senior leaders of the Chinese government and the Chinese Communist Party," said Larry Wortzel, head of a US government commission that studies China security and economic issues. But Wortzel said Hutchison operates independently from Beijing, and he described Li as "a very legitimate international businessman."
"One can conceive legitimate security concerns and would hope either the Homeland Security Department or the intelligence services of the United States work very hard to satisfy those concerns," Wortzel said.
Three years ago, the Bush administration effectively blocked a Hutchison subsidiary from buying part of a bankrupt US telecommunications company, Global Crossing Ltd, on national security grounds.
And a US military intelligence report, once marked "secret," cited Hutchison in 1999 as a potential risk for smuggling arms and other prohibited materials into the US from the Bahamas.
Hutchison's port operations in the Bahamas and Panama "could provide a conduit for illegal shipments of technology or prohibited items from the West to the PRC [People's Republic of China], or facilitate the movement of arms and other prohibited items into the Americas," the now-declassified assessment said.
The CIA currently has no security concerns about Hutchison's port operations, and the Bush administration believes the pending deal with the foreign company would be safe, officials said.
Supervised by Bahamian customs officials, Hutchison employees will drive the towering, truck-like radiation scanner that moves slowly over large cargo containers and scans them for radiation that might be emitted by plutonium or a radiological weapon.
Any positive reading would set off alarms monitored simultaneously by Bahamian customs inspectors at Freeport and by US Customs and Border Protection officials working at an anti-terrorism center 1,300km away in northern Virginia. Any alarm would prompt a closer inspection of the cargo, and there are multiple layers of security to prevent tampering, officials said.
"The equipment operates itself," said Bryan Wilkes, a spokesman for the US National Nuclear Security Administration, the agency negotiating the contract. "It's not going to be someone standing at the controls pressing buttons and flipping switches."
Hutchison's ports subsidiary said in a statement yesterday from its headquarters in Hong Kong it was confident that Bahamian customs inspectors would notify US authorities whenever it was appropriate.
The administration is finalizing the contract amid a national debate over maritime security sparked by the furor over now-abandoned plans by Dubai-owned DP World to take over significant operations at major US ports.
A lawmaker who opposed the DP World deal expressed concern about the Bahamas deal, and did some security experts. They questioned whether the US should pay a foreign company with ties to China to keep radioactive material out of the US.
"Giving a no-bid contract to a foreign company to carry out the most sensitive security screening for radioactive materials at ports abroad raises many questions," Democratic Senator Charles Schumer said.
A low-paid employee with access to the screening equipment could compromise international security by studying how the equipment works and which materials set off its aslarms, warned a retired US Customs investigator who specialized in smuggling cases.
"Money buys a lot of things," Robert Sheridan said. "The fact that foreign workers would have access to how the United States screens various containers for nuclear material and how this technology scrutinizes the containers -- all those things allow someone with a nefarious intention to thwart the screening."
The Hutchison deal in the Bahamas was flagged in a report in October by ATS Worldwide Services, a Florida firm that identifies potential risks for private-sector and government clients. Company officials said they shared the report with some officials in Congress, the military and law enforcement.
Other experts discounted concerns. They cited Hutchison's reputation as a leading ports company and said the US inevitably must rely for some security on large commercial operators in the global maritime industry.
"We must not allow an unwarranted fear of foreign ownership or involvement in offshore operations to impair our ability to protect against nuclear weapons being smuggled into this country," said Senator Norm Coleman, a Republican and member of the Senate Homeland Security and Governmental Affairs Committee. "We must work with these foreign companies."
A former Coast Guard commander, Stephen Flynn, said foreign companies sometimes prove more trustworthy -- and susceptible to US influence -- than governments.
"It's a very fragile system," Flynn said. Foreign companies "recognize the US has the capacity and willingness to exercise a kill switch if something goes wrong."
A spokesman for Hutchison's ports subsidiary, Anthony Tam, said the company "is a strong supporter in port security initiatives."
"In the case of the Bahamas, our local personnel are working alongside with US customs officials to identify and inspect US-bound containers that could be carrying radioactive materials," Tam said.
Comments will be moderated. Keep comments relevant to the article. Remarks containing abusive and obscene language, personal attacks of any kind or promotion will be removed and the user banned. Final decision will be at the discretion of the Taipei Times.