Police destroy Minsk tent camp
`REVOLUTION IS OVER' A riot police squad needed less than 20 minutes to round up the protesters challenging the re-election of Belarusian President Alexander Lukashenko
Riot police arrested hundreds of protesters and destroyed their tent camp in central Minsk early yesterday, ending an act of unprecedented defiance against Belarusian President Alexander Lukashenko.
About 100 black-helmeted riot police arrived at October Square in the dead of night, and proceeded swiftly to carry or herd some 300 to 400 protesters into green trucks with barred windows. There was no violence or resistance.
Colonel Yury Podobed, who headed the operation, was quoted by Echo Moscow radio saying: "The revolution is over."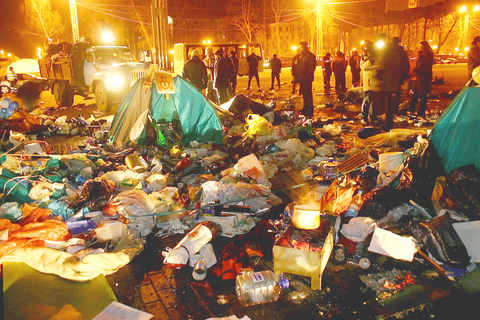 Workers clean the opposition tent camp in Minsk's October Square after police stormed the site in the Belarusian capital yesterday morning, arresting scores of demonstrators.
PHOTO: EPA
But top opposition leader Alexander Milinkevich accused the government of speaking "in the language of repression" and vowed to continue his fight to have Lukashenko's landslide re-election victory last Sunday annulled.
He said that a major rally planned for today would go ahead.
In Washington, the US State Department said it was "disturbed by the breakup of the demonstration and the detention of protesters."
The dramatic raid came on the fourth consecutive night that opposition activists -- mostly students -- peacefully occupied their tent camp on the vast, icy central square.
They had stood day and night in a protective human shield around their cluster of 35 tents, chanting slogans such as "Freedom!" and waving banners and flags, including that of the EU.
Only minutes before riot police arrived they were dancing to music and chanting: "Long live Belarus!"
The riot police disembarked at 3:07am from seven green trucks with barred windows and surrounded the tiny camp, a reporter at the scene said.
There was a palpable sense of fear and all noise stopped, except for occasional, weak cries of opposition slogans, such as: "Police are with the people!"
The demonstrators were then ordered to sit and riot police moved in, grabbing or simply guiding people to the backs of trucks. There was no violence visible.
By 3:20am it was all over.
The trucks sped away and all that remained of the protest camp -- the most brazen pro-democracy demonstration in Lukashenko's 12-year rule -- was a heap of broken tents, spilled food, dozens of Thermos flasks and clothing.
Among the wreckage were also all the banners that the protesters had been waving before the world's media most of that week.
"Freedom for us, freedom for you," read one. "Belarus in Europe!" read another.
Among those detained in the police raid was a stepson of Milinkevich. Also detained was a Polish diplomat and former ambassador to Minsk, Mariusz Maszkewicz, the Polish consulate and witnesses said.
"They are not giving any information. They won't let us see him. That's a violation of the Geneva Convention," Poland's consul, Krzysztof Swiderek, told reporters outside the prison where the demonstrators were being held.
The raid leaves Belarus' opposition in crisis. Already, more than 250 people had been arrested since Sunday, according to human rights organizations.
State television has been running hours of reports daily aimed at discrediting Milinkevich and the demonstrators as Western agents and social deviants.
Early news broadcasts yesterday showed footage of syringes, vodka bottles and pornography that the state channel claimed had been found in tents at the camp.
But Milinkevich, who according to official results won only 6.1 percent of Sunday's vote, compared with 83 percent for Lukashenko, remained defiant.
"We will continue with what we planned for [Saturday]," Milinkevich told reporters.
"These authorities can only speak one language, that of repression. They showed that again. I had been expecting this each night," Milinkevich said.
Fellow opposition leader and defeated presidential candidate, Alexander Kozulin, said: "The authorities' nerve didn't hold -- for them to have sent the police here at night when there were as few witnesses as possible."
Comments will be moderated. Keep comments relevant to the article. Remarks containing abusive and obscene language, personal attacks of any kind or promotion will be removed and the user banned. Final decision will be at the discretion of the Taipei Times.