Relief coordinator to live in Australian disaster zone
The retired general who will oversee relief and reconstruction efforts in cyclone-shattered northern Australia toured the region yesterday and said he could not set a time limit on how long it would take to rebuild devastated towns.
"Ladies and gentlemen, I'm here with my sleeves rolled up and my waterproof boots on," charismatic retired General Peter Cosgrove said in Innisfail, ground zero of the havoc wrought on Monday morning by Category Five Cyclone Larry. "It's time to get to work."
After walking around Innisfail in teeming tropical rain and shaking hands with residents gathered around a free barbecue, Cosgrove pledged to live in the region until his work was done, but said he could not say how long that would take.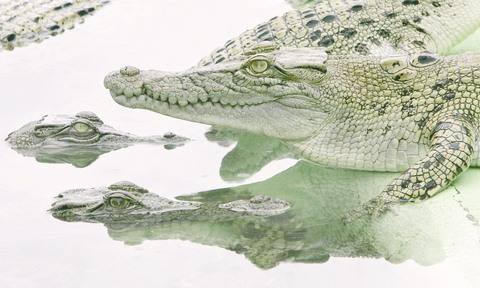 Young saltwater crocodiles sit in their pen at the Johnstone River Crocodile Farm in the northern Queensland town of Innisfail, 84km from Cairns, on Thursday. Since Cyclone Larry hit the area early on Monday, even the supposedly menacing crocodiles on the farm were so spooked by the strong winds that battered the town that they've refused to eat. That could mean more losses in the days ahead for the farm, which sells the crocodiles for their skins and meat.
PHOTO: AP
"This place has been smashed, this has been a widespread and terrible natural disaster," Cosgrove said.
Cosgrove, who retired last year as chief of Australia's defense forces, is best known for leading a force of international troops into East Timor in 1999 to quell a bloody rampage by pro-Jakarta militias.
"I think it's important not to set artificial timetables," he said when asked how long reconstruction would last.
"Just as when we went into Timor, we didn't know how long it was going to take," he said.
Australian federal Treasurer Peter Costello said yesterday that a package of grants and loans that would assist farmers and small businesses in their recovery would likely cost around A$100 million (US$70 million).
"We can't be sure of the final figure until everybody takes up the loans and the building is done," Costello told reporters in Melbourne.
Earlier, Brigadier Michael Slater, who is commanding the military cleanup activities, said some Innisfail locals had been expressing anger at the slow pace of repairs.
But Slater defended the speed at which his 400 troops were working.
"There are certainly some locals who are venting and taking out their frustrations on the soldiers," Slater told Australian Broadcasting Corporation radio.
"But I don't think they realize the difficulty and complexity of trying to do a rebuild essentially of the infrastructure and the towns that have been affected," he said.
"That can't happen in a couple of weeks. The emergency work can happen very quickly and that has happened," he said.
Slater said the military's fleet of 13 helicopters and dozens of trucks was aiming to ferry aid yesterday to remote farming settlements that have been cut off for days by fallen trees and flooding.
It was unclear how badly the pouring rain was hampering those efforts -- it did not stop electricity workers clambering up poles lining the main highway through Innisfail to repair power lines felled by the storm.
Despite their efforts, there were still 21,000 homes and businesses without power yesterday, said Geoff Bowes, Ergon Energy's manager of regional services.
Comments will be moderated. Keep comments relevant to the article. Remarks containing abusive and obscene language, personal attacks of any kind or promotion will be removed and the user banned. Final decision will be at the discretion of the Taipei Times.