Pro-king candidates dominate Nepal poll
Amid cries of foul play, Nepal's National Election Commission said yesterday that the counting of votes had ended in all but one municipality and the pro-king party had won most of the mayoral posts.
Vote counting ended yesterday for the prestigious post of Kathmandu mayor, where the candidate belonging to the pro-monarch faction of the National Democratic Party was declared elected.
The counting of the votes that began late Wednesday night across Nepal was marred by protests by participating parties and independent candidates.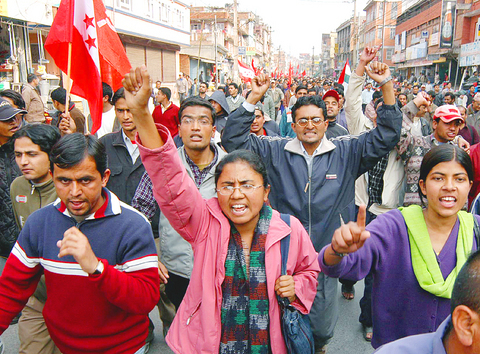 Protesters chant anti-king slogans as they march through a street in Kathmandu, Nepal, on Thursday.
PHOTO: AP
Even though just about 20 percent of the over 390,000 voters cast their ballots in Kathmandu, the counting was delayed because of allegations of fraud during the vote count.
In the Nepalese capital, Raja Ram Shrestha emerged as the winner. He belongs to the Thapa faction of the National Democratic Party.
The pro-monarchy National Democratic Party split ahead of the municipal polls with the faction led by Home Minister Kamal Thapa opting to take part in the elections.
The other faction led by party president Pashupati Shumshere Rana stayed away from the polls and threw its lot with the seven parties agitating against King Gyanendra's direct rule.
According to the National Election Commission, the Thapa faction of the National Democratic Party won 14 out of the 34 mayoral contests, followed by Nepal Sadbhabana Party which won two mayoral seats.
The remaining mayoral posts in different municipalities went to independent candidates.
The vote counting in Birgunj, a town near the Nepal-India border, was still going on, the National Election Commission said.
The civic polls were held on Wednesday and despite appeals by government ministers, the voter turn out was extremely low, averaging just about 22 percent of about 1.4 million eligible voters in 36 municipalities across Nepal.
Nepal's political parties, mainly the centralist Nepali Congress and its breakaway faction the Nepali Congress Democratic and the communist United Marxist-Leninists, boycotted the polls saying that they were being held to "legitimize" King Gyanendra's seizure of power in February last year.
The Maoists also rejected the election and imposed a week-long nationwide shutdown from Sunday to obstruct the polls.
Though the Maoists said their shutdown would last for a week, they withdrew the general strike on Wednesday.
Comments will be moderated. Keep comments relevant to the article. Remarks containing abusive and obscene language, personal attacks of any kind or promotion will be removed and the user banned. Final decision will be at the discretion of the Taipei Times.