King widow lies in state in Georgia
SAYING GOODBYE Thousands paid their last respects to Coretta Scott King, the widow of Martin Luther King, who was lying in state in Georgia
More than 10,000 people on Saturday filed past the coffin of Coretta Scott King, the late widow of civil rights leader Martin Luther King Junior, who died on Tuesday at the age of 78.
King became the first woman and the first black person to be honored with a public viewing in the Capitol, the government seat of the southern state of Georgia.
Braving rain and the cold, admirers of Coretta Scott King lined up for five city blocks to pay their final respects to a woman sometimes called the first lady of Civil Rights. Many spent more than two hours standing in line to enter the Capitol.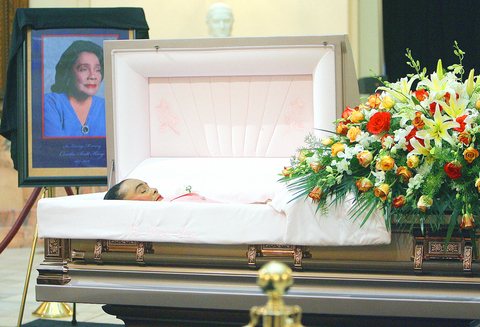 Coretta Scott King lies in state in the Rotunda at the Capitol in Atlanta, Georgia, on Saturday.
PHOTO: AP
"She stood by [her husband's] side when he was cursed at, spat on, beaten and had their family's lives threatened," law professor Jeremy Levitt wrote in a Sun-Times group tribute.
"She was there when he received the Nobel Peace Prize in 1964 and marched with him on numerous occasions, most notably in Selma, Alabama, in 1965," he added.
Coretta and Martin Luther King's four children, Yolanda, Bernice, Martin Luther III, and Dexter, spent a few private moments by the open casket before the rotunda was opened to the public.
US President George W. Bush has postponed a trip to New Hampshire to attend King's funeral, scheduled here for tomorrow, and was expected to make remarks as part of the service, the White House said.
He will be accompanied by First Lady Laura Bush.
King, a civil rights activist in her own right who carried on her husband's mission after his assassination in 1968, died this week aged 78.
Her body was flown to Atlanta on Wednesday from Mexico, where she had sought treatment for ovarian cancer.
A horse-drawn carriage brought her casket to the Capitol, where a lone bagpiper played the hymn Amazing Grace as an honor guard carried the coffin into the rotunda under the solemn gaze of Georgia Governor Sonny Perdue and other mourners.
Her body was to lie in state in the Capitol's rotunda through late Saturday.
Her husband was denied the honor under then-governor Lester Maddox following his April 1968 assassination.
"She's in a place of everlasting equality now," Perdue said
`Courageous'
He described King as "a gracious and courageous woman, an inspiration for millions and one of the most influential civil rights leaders of our time."
Perdue added that she was "absolutely an anchor and support for her husband."
Coretta Scott, a promising singer, married King in 1953 and immediately supported his equal rights campaign, often speaking on his behalf when he was unable to attend an engagement.
Four days after his assassination on April 4, 1968 in Memphis, Coretta Scott King led an equal rights march by 50,000 people through the streets of the Tennessee city.
While raising four children, she also campaigned fiercely to keep alive her husband's message of non-violent change.
Today, her body will be moved to the Baptist church in Atlanta where Martin Luther King used to preach and where the funeral service will be held.
Comments will be moderated. Keep comments relevant to the article. Remarks containing abusive and obscene language, personal attacks of any kind or promotion will be removed and the user banned. Final decision will be at the discretion of the Taipei Times.