Dutchman convicted of aiding Saddam's war crimes
MIDDLEMAN A dutch businessman was given 15 years in jail for his role in supplying the chemicals used to create the poison gas which killed 5,000 kurds in Iraq
In the first trial involving the mass killing of Iraqi Kurds with chemical weapons, a Dutch court on Friday sentenced a supplier of the weapon ingredients to 15 years in jail.
The judges convicted Frans van Anraat, 63, a Dutch businessman, of complicity in war crimes because they said he had known that the materials he sold to Iraq during the rule of former president Saddam Hussein could be used to make lethal poison gas.
The court acquitted him of complicity in genocide, because it said it could not be proved that he knew that the chemicals would be used for genocide. The raw materials were sent to Iraq before they were used in the mass attack against Kurdish villagers, the court said.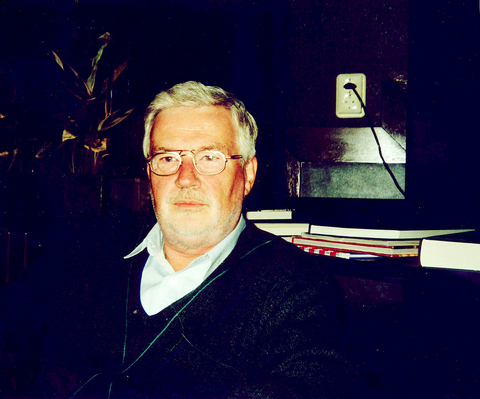 This file photo shows businessman Frans van Anraat, who on Friday received a 15-year sentence from a Dutch court for his role in supplying chemicals used by the Iraqi regime of former president Saddam Hussein to make poison gas for military use.
PHOTO: EPA
Van Anraat received the maximum sentence for complicity in war crimes. But the judges' decision said that "the crimes are of such a grave nature that even the maximum sentence cannot do them justice."
A group of Kurds, some of whom had joined the lawsuit as relatives of victims, applauded in court when the sentence was handed down, and several dozen others played music and danced outside the courthouse in The Hague afterward, witnesses said.
Lawyers involved in the monthlong trial said it was the first time a court had ruled that the attack by Saddam's troops on the town of Halabja in 1988 was genocide. The attack, which was part of a broader campaign against Iraqi Kurds, killed more than 5,000 people in a single day, while blinding and maiming many others.
The massacre also forms part of the charges brought against Saddam, who is now on trial in Baghdad in connection with a different large-scale killing.
Van Anraat's case is also the first in which a supplier of potentially harmful ingredients had been charged with genocide and convicted in connection with war crimes under a new mix of national and international law. In the past, the delivery of goods like the chemicals that van Anraat sold to Iraq despite export bans would probably have been dealt with as an economic crime, said Heikelina Verrijn-Stuart, a Dutch specialist in international law.
"This sends an important signal to suppliers and traders," she said.
"It says that they, too, can be prosecuted and held accountable for war crimes," she added.
The indictment of van Anraat said he had used a Panamanian company based in Switzerland to try to cover up his dealings with Iraq.
The indictment said the chemicals could be used as ingredients in mustard and nerve gases, which eventually were used against the Kurdish population in Iraq and during Iraq's war against Iran in the 1980s.
Prosecutors said van Anraat, acting as a middleman, had used schemes to ship the chemicals from Japanese producers via countries including Italy, Luxembourg, Switzerland and Singapore. He sent them under labels like "flame retardants."
During the trial, he admitted to selling the goods, but maintained that he thought they would be used in the textile industry. Several witnesses, including a Japanese business associate of van Anraat, testified that he knew of the materials' potentially lethal use.
Comments will be moderated. Keep comments relevant to the article. Remarks containing abusive and obscene language, personal attacks of any kind or promotion will be removed and the user banned. Final decision will be at the discretion of the Taipei Times.