Democrats win in gubernatorials
BUSH WHACKED In a bad night for the Republicans, even the appearance of the president wasn't enough to cement support for the party's Virginian candidate
Democrats swept tough and sometimes nasty governors' races in both Virginia and New Jersey states on Tuesday, dealing a big setback to Republicans and President George W. Bush ahead of critical congressional elections next year.
In Republican-leaning Virginia, Democratic Lieutenant Governor Tim Kaine defeated former Attorney General Jerry Kilgore despite Bush's 11th-hour appearance on Kilgore's behalf.
And Democratic Senator Jon Corzine beat Republican businessman Doug Forrester in a New Jersey race that featured an attack on the divorced Corzine from his ex-wife.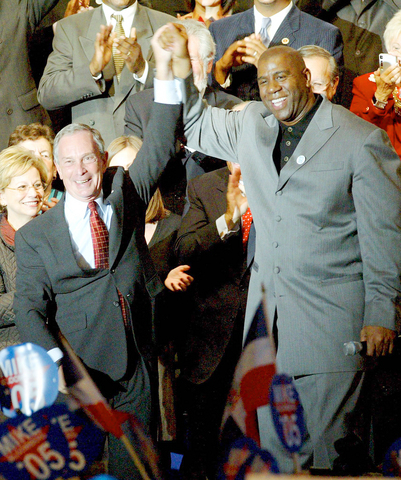 New York City Mayor Mike Bloomberg, left, celebrates his re-election victory over challenger Fernando Ferrer with basketball hall of famer Magic Johnson at his election night headquarters in New York on Tuesday. Billionaire Bloomberg, a Republican, easily won another four-year term.
PHOTO: EPA
In other contests across the country, dozens of cities picked mayors and seven states considered ballot initiatives, including California, where Governor Arnold Schwarzenegger has bet his sinking political capital on passing four initiatives.
Measures that would cap spending and take redistricting away from lawmakers were trailing while two others targeting public service unions were ahead. All four were strongly backed by the film-star turned governor in his power struggle with the Democratic-controlled Legislature.
In New York, Republican Mayor Michael Bloomberg sailed to re-election after spending as much as US$100 million of his own fortune to defeat Democrat Fernando Ferrer, the Bronx borough president.
With control of both chambers of the US Congress and 36 governorships at stake next year, the off-year election results offered grim news for Republicans looking for clues to next year's political climate and the long-term effect of Bush's plummeting approval ratings, now the lowest of his presidency.
The Virginia result in particular was a blow to Bush, who stopped in the state for a get-out-the-vote rally with Kilgore on his return from Latin America. Bush's mounting political problems and Kilgore's poor showing could make Republicans hesitant to call on him for help next year.
The Virginia race was heated, with Kilgore attacking Kaine in a series of harsh television ads as too liberal for the Southern state on social issues like the death penalty, abortion and immigration.
But the ads seemed to sour voters on Kilgore. Kaine allied himself with popular Democratic Governor Mark Warner, a potential 2008 presidential candidate who is barred by law from seeking a second term, and argued he was the best choice to keep Virginia moving ahead.
"The people of Virginia have sent a message loud and clear that they like the path we chose and they want to keep Virginia moving forward," Kaine, with Warner at his side, told cheering supporters in Richmond.
In Democratic-leaning New Jersey, Forrester aired an ad last week featuring the published comments of Corzine's ex-wife, who told the New York Times the divorced Corzine "let his family down, and he'll probably let New Jersey down, too."
Corzine, a multimillionaire and former Wall Street executive, replaces former Governor James McGreevey, who resigned last year after revealing a homosexual affair with an aide. As governor, Corzine will appoint his replacement as senator.
Possibly no one had more at stake than Schwarzenegger, the once immensely popular governor of the nation's largest state who faces re-election next year.
The former actor campaigned heavily for four ballot initiatives, which were among 39 measures facing voters in seven states on issues ranging from gay rights to election reform.
Maine was deciding whether to keep a law protecting homosexuals from discrimination, while Texas approved a constitutional amendment banning gay marriage.
Detroit Mayor Kwame Kilpatrick was trailing challenger Freman Hendrix, a deputy mayor under Kilpatrick's predecessor. Kilpatrick stood to become the first Detroit mayor since 1961 to be defeated in a re-election bid.
The elections come at the lowest point in Bush's five-year presidency with his approval ratings plunging below 40 percent in some polls. Republicans, who control both house of Congress, have been further damaged by criminal charges against powerful congressman Tom DeLay, who was forced to give up his leadership position, and an investigation into the leading Republican in the Senate, Bill Frist.
Comments will be moderated. Keep comments relevant to the article. Remarks containing abusive and obscene language, personal attacks of any kind or promotion will be removed and the user banned. Final decision will be at the discretion of the Taipei Times.