Little movement seen at six-party talks
Sharp differences over North Korea's nuclear programs were back in the spotlight yesterday as the US held its line at the opening of another round of six-nation disarmament talks.
The talks are aimed at implementing a September agreement for North Korea to scrap its nuclear programs in exchange for energy and other aid, but the North later demanded an atomic reactor for energy purposes before disarming.
"First, they have got to disarm [and] create a nuclear-free Korean Peninsula," chief US delegate Christopher Hill told reporters before the talks got under way in the Chinese capital.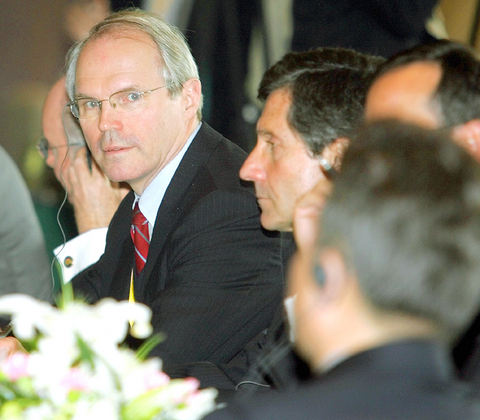 US Assistant Secretary of State Christopher Hill looks toward the North Korean delegation during the opening session of the fifth round of six party talks in Beijing yesterday.
PHOTO: AP
"It is very clear in the agreement what they need to do," Hill said, holding the US position on Pyongyang.
Delegates from China, North Korea, South Korea, the US, Russia and Japan opened their fifth round of talks with little outward sign of a breakthrough in the impasse.
The chief of the Chinese delegation Wu Dawei (武大偉) urged all parties at the opening of the talks, which are expected to last three days and resume again next month, to work toward a phased implementation of the September agreement.
"This result has not come easily and therefore all the parties should highly cherish it and treat it seriously," Wu said.
North Korea has said little about its intentions but adopted a typically angry stance on the eve of the meeting by claiming Bush had slandered its leader Kim Jong-il this week as a "tyrant."
Comments will be moderated. Keep comments relevant to the article. Remarks containing abusive and obscene language, personal attacks of any kind or promotion will be removed and the user banned. Final decision will be at the discretion of the Taipei Times.