Sharon loses parliament showdown over Cabinet
The prospect of new elections loomed large in Israel yesterday a day after Prime Minister Ariel Sharon suffered a stinging defeat when parliament rejected three ministerial nominations in votes backed by rebels in his own Likud party.
Israeli media cited sources close to Sharon as saying that the premier would now seek new elections, the chief question now being whether he should remain in the Likud party or form his own party.
Political observers believed that new elections would take place in next spring, the Israeli media reports said.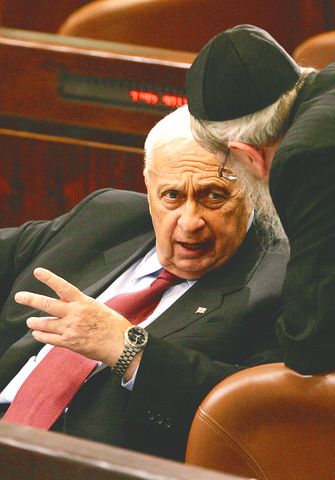 Israeli Prime Minister Ariel Sharon speaks to an ultra-Orthodox member of parliament at the Knesset in Jerusalem on Monday.
PHOTO: AFP
Monday evening, in a test of strength, the parliament first rejected three Cabinet appointments presented in an "all or nothing" package but then approved Ehud Olmert as finance minister when Sharon re-submitted his deputy's nomination for a separate vote.
Hardliners in Sharon's rightist Likud bent on punishing him for evacuating Gaza settlements engineered the embarrassing blow to the prime minister.
Taking the Knesset podium, he vowed to his opponents: "There will be consequences."
Olmert's nomination was especially urgent because his term as acting finance minister was due to end this week. Olmert, Sharon's No. 1 ally, had replaced Benjamin Netanyahu, the premier's key rival in the Likud who quit in August to protest Israel's withdrawal from the Gaza Strip.
The votes, which capped a stormy session after a week of negotiations failed to reach a compromise, underscored divisions in Sharon's party that threaten his ability to govern for the remainder of his term which is due to end next November.
The prime minister has made clear he prefers to avoid a snap election but aides have said he may have no choice if his own party ties his hands.
There has also been speculation that Sharon could leave Likud and form a centrist party to capitalize on broad Israeli public support for the pullout. It was completed in September after 38 years of occupation of the coastal territory.
Sharon turned Israeli politics on its head with his Gaza withdrawal, losing some rightist allies and allying with center-left Labour for the first removal of settlers from land Palestinians want for a state.
Likud dissidents were mindful that Israel could have been hurt in world financial markets if such an important post as the finance minister had been left in limbo for long.
But the rebels succeeded in blocking the other appointments, Zeev Boim as immigration minister and Roni Bar-On as trade minister, saying the two were being rewarded for backing the pullout, which opponents see as encouragement for Palestinian violence.
Comments will be moderated. Keep comments relevant to the article. Remarks containing abusive and obscene language, personal attacks of any kind or promotion will be removed and the user banned. Final decision will be at the discretion of the Taipei Times.