Africans fearful of big game project
TRANSFRONTIER PARK As countries merge what is to become the world's largest wildlife park, the ban on hunting leaves the local human population vulnerable
It will cover an area equivalent to half of Scotland and cross the borders of three countries. Nearly 150 species -- including elephants, rhinos and lions -- will roam across its savannah landscapes.
Tourists, it is hoped, will come in their thousands. What is hailed as the world's biggest animal kingdom, the Great Limpopo Transfrontier Park, will move a step closer to completion in the next few weeks as the presidents of South Africa, Mozambique and Zimbabwe open the first border post. The countries are merging three game reserves, creating a 35,000km2 conservation area. Eventually it will cover 100,000km2.
The project, 15 years in the planning, has been praised as an example of regional cooperation and sustainable development, raising foreign investment and creating much needed jobs.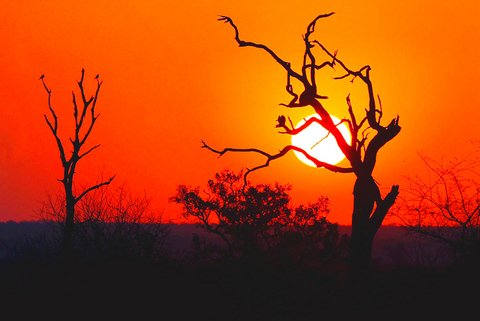 The sun sets behind a dead leadwood tree in the northern Kruger National Park, South Africa, earlier this month.
PHOTO: EPA
The mood isn't so optimistic among the people of Salani village, Mozambique, who for generations have planted crops and hunted wild animals, and now fear they will no longer be the hunters but the hunted.
"This is our ancestors' land and also where our grandfathers are buried," explained the village chief, Armando Salani.
But since officials removed a section of fence between Kruger national park in South Africa and Limpopo national park in Mozambique and enforced a hunting ban to allow animals to begin populating the land along the Limpopo River, villagers and their livestock are vulnerable to predators.
"We used to walk any time, but now we only walk by day," Rose Hlongo said, sitting beneath a tree on the road to Salani. "Last week hyenas killed our goats."
Salani says the villagers have yet to be compensated for lost livestock and park officials have refused to erect protective fencing, arguing that the game must be free to roam. The hunting ban has depleted the villagers' already meager diet and the promised tourism jobs are a distant prospect.
Limpopo national park lacks tarred roads, running water and electricity, much less a range of tourist-friendly amenities. Game-viewing opportunities are still rare, and it will take years for zebras, giraffes, impala and rhinos to populate the entire area.
For now, village life continues much as it always has. Women pound maize outside mud huts, children play and evenings are whiled away drinking malala beer, made from the roots of an indigenous palm.
After three years of drought and the damming of the Limpopo, for much of the year the river no longer runs and crops often fail. "We don't have enough food," Salani says.
As the fences come down, clashes between animals and people are bound to increase, Ari van Wyk, project manager for the park, said. "Some people feel wildlife and people must live in harmony, but we know if there's no proper fencing, [animals] will go into people's fields."
Some villagers complain that animal rights have taken precedence over human rights. But Willem van Riet, chief executive of the Peace Parks Foundation which initiated the plan, insists the idea is to use conservation to develop impoverished areas.
The PPF has already created six transfrontier parks in southern Africa. Initial funding for the Mozambican part of the Limpopo transfrontier park has come from the German development bank, which will also pay for the resettlement of eight villages.
How they will be compensated and where they will be moved to is still under discussion.
Currently, no donor is willing to fund the Zimbabwean section of the park, which includes the Gonarezhou national park. Local papers report that Gonarezhou has been invaded by settlers and that much of its game has been killed.
"Even with the problems we still want to stay here, because we were born here and our ancestors are from here," Rose Hlongo said. "We haven't seen any positive changes yet, but we're waiting."
Comments will be moderated. Keep comments relevant to the article. Remarks containing abusive and obscene language, personal attacks of any kind or promotion will be removed and the user banned. Final decision will be at the discretion of the Taipei Times.