Red tape ties up India's relief aid
The wool blanket -- gray-blue-and-green plaid with fringe -- started out in a New Delhi government supply office. Loaded onto a yellow truck with tents and other Indian-made blankets, it traveled north to earthquake-stricken Kashmir.
That took one day.
The blanket sat for two more days in the town of Baramulla because quake victims did not have the right paperwork. On Wednesday, the blanket was taken to another town but held up again, this time by a Hindu holiday.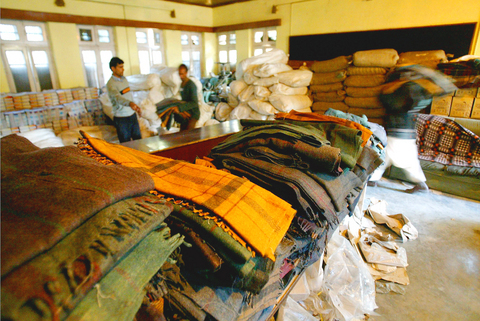 Volunteers stack blankets at a government office temporarily converted into a relief storehouse in Baramulla, 55km north of Srinagar, on Wednesday.
PHOTO: AP
By Thursday afternoon -- five days and 1,050km after it left the Indian capital -- the blanket was in the hands of a retired farmer with one kidney and 20 grandchildren. He was grateful but wondered how this thin piece of cloth, just 1m by 1.6m, could possibly save his family.
The blanket's journey reflects the long, bureaucracy-tangled process of disaster relief in India, a country of more than 1 billion people that every year faces deadly disasters, often with thousands made homeless.
After a 1000km trip, government aid workers unloaded the blanket on Monday from the truck and packed it with other supplies into the deputy commissioner's compound in Baramulla. The garrison town -- a base for Indian soldiers defending their portion of divided Kashmir from the Pakistani side -- is surrounded by villages destroyed by last Saturday's earthquake.
An estimated 143,000 people in Indian Kashmir were made homeless by the massive quake. Around Baramulla, hundreds of people already had spent two nights sleeping outside in freezing Himalayan temperatures made worse by rain and snow.
But none of the tents or blankets could be distributed, because victims did not have request slips stamped and signed by the officer in charge. They spent Tuesday night, again, outside.
"It was raining last night and it was very cold. But we could not send out these blankets," said Khursheed Ahmed Ganai, an aid volunteer.
On Wednesday morning, the top officer, A.G. Malik, was surrounded by agitated villagers demanding request slips. They accused Malik of playing favorites and settling scores, of letting religious or political affiliations determine who got help.
Overnight, from Tuesday to Wednesday, six children in Kashmir died of hypothermia from sleeping outdoors.
On Wednesday afternoon, Mohammed Ramzan, a tax official overseeing relief work, arrived in Baramulla from a town 30km away. He asked for 1,500 blankets and 55 tents for 97 villages. He supplied a letter from his boss and photocopies of earthquake damage as credentials.
Malik gave him the coveted requisition papers -- but only for 200 blankets and 10 tents.
Soon, the plaid blanket and the other goods were back on a truck.
After an hour-long journey along a mountain highway, the blanket arrived at the local tax-collection office in Pattan -- another hub for dozens of devastated villages.
Ramzan promised villagers standing around waiting for the aid truck that tents and blankets would be handed out right away.
Then local tax-collection chief Mohammed Shafi weighed in: Aid distribution had to be supervised by a panel of four officials, and he was the only one present.
"The others haven't come to work today. It's a public holiday," Shafi said.
On Thursday afternoon, Abdul Jabbar Ganai, a 65-year-old a rice farmer who retired after having a kidney removed, took a public bus to the Pattan tax office and got in line with a few hundred others. All four tax officials were present and aid was being handed out.
Two hours later Ganai had some supplies -- including the plaid wool blanket -- but it hardly seemed enough.
Comments will be moderated. Keep comments relevant to the article. Remarks containing abusive and obscene language, personal attacks of any kind or promotion will be removed and the user banned. Final decision will be at the discretion of the Taipei Times.