Thailand still king for counterfeiting
WHO AM I? Just about any fake ID imaginable can be bought on the streets of Bongkok, which is causing concern for those countries fighting the 'war on terror'
Anything is available in Bangkok for a price: women, men, children, endangered species, drugs, counterfeit drugs, DVDs -- and fake passports, ready in two hours for just 10,000 baht (US$245).
Forged travel documents are readily and affordably available on Bangkok streets, according to one man who sells forged student identity cards in the capital city's bustling tourist district.
And security analysts say that for higher sums, much better quality counterfeits can be obtained.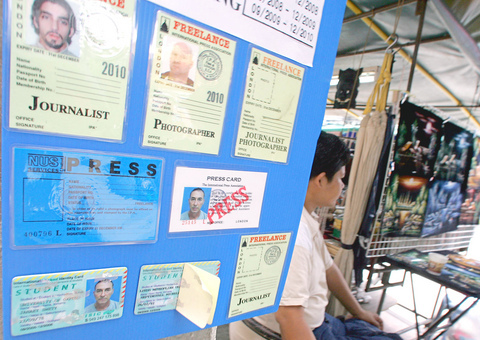 A Thai man sits next to a fake identity card stall at Khao San Road in Bangkok, on Monday.
PHOTO: AFP
The attention of the world's intelligence services is again focusing on Thailand after British police announced they had begun extradition proceedings for an Algerian man arrested in Bangkok in late August with 180 fake passports.
Thai police, who charged Atamnia Yachine, 33, with overstaying his visa and possessing the false passports, say he is being sought by Britain in connection with the deadly July 7 London subway attacks.
But Britain's Scotland Yard and the Foreign Office have not confirmed any link, saying Yachine's extradition is being sought and an arrest warrant has been issued on suspicion of conspiracy to make and distribute false passports and money-laundering offenses.
"Thailand is recognized as a center for forgery, but false documents are produced throughout the world, including Albania, Dubai and Singapore," Britain's National Criminal Intelligence Service said in the latest edition of its threat assessment of serious and organized crime.
Between February 2004 and August last year, some 1,275 counterfeit passports had been seized and 12 foreigners arrested in separate incidents in Thailand. Most arrests occurred in Bangkok. In June, a French woman was arrested on Thailand's resort island of Samui for selling stolen French passports on Bangkok streets for 40,000 to 50,000 baht (US$1,000 to US$1,250) each.
Punishment for possession of a fake Thai passport, by either a vendor or a customer, is up to 10 years in prison. Possession of a fake passport from another country is punishable by up to five years, and both offenses carry up to a 50,000 baht (US$1,200) fine.
The year's other high-profile arrest came in January, when Thai police reportedly arrested a Bangladeshi man accused of selling a fake passport to Asia's most wanted terror suspect Hambali, who was captured in Thailand two years ago and is now being held by the US at an undisclosed location.
"Several groups are thought to have exploited this kind of underground business including al-Qaeda, Jemaah Islamiah and especially Sri Lanka's Liberation Tigers of Tamil Eelam (LTTE)," Rand Corporation terrorism analyst Peter Chalk said.
"Illegal migrants and crime syndicates are also significant customers."
On Khao San Road, the Thai capital's heaving backpacker strip, a young Thai man who sells fake student and press cards claimed he could get a fake passport for 10,000 baht (about US$245).
"Any," the short-haired man in a T-shirt said, when asked which countries he had passports for. He claimed he only needed two hours.
A police officer attached to a Western embassy in Bangkok, who spoke on condition of anonymity, said the man could be telling the truth, but cautioned the quality may be poor as a passport needed for international travel was likely to be more expensive.
"The quality of the documentation depends on how much money an individual is prepared to pay, but at the high end it is generally considered to be very good," Rand Corporation's Chalk said.
"A lot of use is made of genuine passports that are doctored for the client. Most are either sold by backpackers who have run into financial difficulties or simply stolen."
Features that reveal a fake passport include the quality of the paper and ink used, peeling laminate, spelling mistakes or variations in print details, and missing pages, the Western police officer said.
"You get what you pay for," the officer added.
Comments will be moderated. Keep comments relevant to the article. Remarks containing abusive and obscene language, personal attacks of any kind or promotion will be removed and the user banned. Final decision will be at the discretion of the Taipei Times.