Jakarta adopts strict policies to keep bird flu in check
The government imposed "extraordinary" measures yesterday to keep a bird flu outbreak that has killed four people in Indonesia from spreading, including the forced hospitalization of people who exhibit symptoms of the disease.
In addition to the fatalities, six patients suspected of having the H5N1 strain of bird flu have been admitted to Jakarta's infectious diseases hospital, officials said, two of them zoo employees. Blood samples from the patients have been sent to Hong Kong for testing.
Health Minister Siti Fadila said the government was "very concerned" about the spread of bird flu and had assigned 44 state-owned hospitals to treat avian influenza patients, who will receive free medication.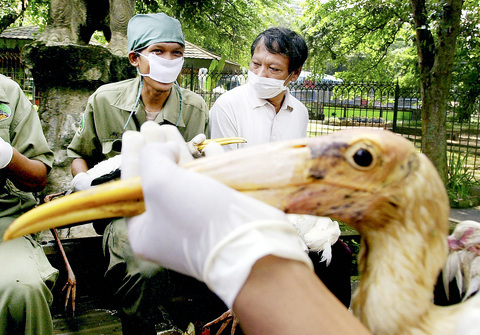 Masked zoo workers take purple herons to quarantine at the Ragunan Zoo in Jakarta yesterday. The zoo was closed on Monday after several of its bird species contracted bird flu, highlighting Indonesia's continuing struggle to contain the virus which is endemic in chicken populations throughout the sprawling archipelago.
PHOTO: AP
Those with symptoms of the disease could be admitted by force, she said, adding that the "extraordinary" status would last 21 days but could be renewed if necessary.
Meanwhile, zoos across the sprawling archipelago were taking measures to protect their animals after 19 eagles, peacocks and other birds tested positive for the virus at the popular Ragunan Zoo in south Jakarta, forcing its closure for three weeks.
Two of the zoo's employees were hospitalized yesterday with symptoms of the disease -- a 28-year-old guide and a 39-year-old vendor, I Nyoman Kandun, director general of Communicable Disease Control, said.
Zoos elsewhere in Indonesia were testing birds for the virus, while others sprayed disinfectant in bird cages and stopped accepting new animals.
"With such measures, we believe the park is safe," said Asep Firmansyah, a spokesman for Taman Safari Indonesia just outside the capital.
"However, we will welcome health officials testing the birds at this park," he said.
The virus has swept through poultry populations in large swaths of Asia since 2003, killing 63 people and resulting in the deaths of tens of millions of birds.
A Cabinet meeting was to be held later yesterday to discuss what measures Indonesia should take to fight the disease, after the government reiterated on Monday that it lacks necessary funds to undertake mass culling of birds in areas where outbreaks occur.
Most human cases of bird flu have been linked to sick birds. But the World Health Organization has warned that the virus could mutate into a form that can be easily transmitted between humans, possibly triggering a global pandemic that could kill millions.
Comments will be moderated. Keep comments relevant to the article. Remarks containing abusive and obscene language, personal attacks of any kind or promotion will be removed and the user banned. Final decision will be at the discretion of the Taipei Times.