Vietnam Vet interrupts PM's speech
BITTERLY DIVISIVE The Vietnamese premier was interrupted by a protester as he took part in a dinner celebrating friendship with his former enemy
"That's life," Vietnam's prime minister said after security officers hustled a balding, shouting protester believed to be a Vietnam veteran away from the head table at a gala dinner celebrating friendship between Vietnam and its one-time enemy, the US.
The incident, which lasted only a few seconds, was testimony of how bitterly divisive that war remains. It followed -- and stood in stark contrast to -- an introduction Tuesday night of Prime Minister Phan Van Khai by another Vietnam veteran, Senator John McCain, who spent almost six years as prisoner of war in Vietnam.
McCain had said: "Thirty years after the war's end, I believe we should look to the future and its potential and not to the past and its pain."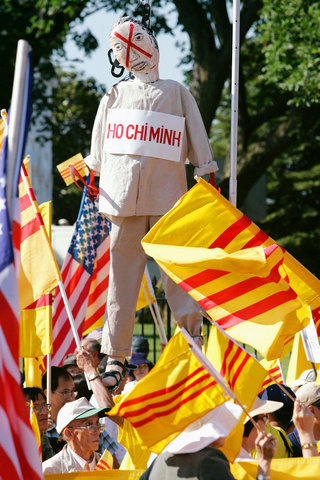 Vietnamese-American protesters wave an effigy of former North Vietnamese leader Ho Chi Minh as they march past the White House during Vietnamese Prime Minister Phan Van Khai's meeting with US President George W. Bush, in Washington on Tuesday. The protesters chanted anti-Khai slogans and called for democracy and better human rights in Vietnam.
PHOTO: EPA
The speech by the prime minister, the first head of Vietnam's communist government to visit the US, was much in the same vein.
"The purpose of my visit to the US this time is to relay to the American people a clear and strong message," Khai said. "That is the government and people of Vietnam wish to develop friendly relations, constructive partnership and comprehensive, stable and long-term cooperation with the US on the basis of equality, mutual respect and benefits."
Referring to the keynote event of his trip a few hours earlier -- his visit to the Oval Office of the White House -- Khai said, "I am pleased to note that President [George W.] Bush also shares with me that message."
In the meeting, Khai and Bush also talked of human rights and religious freedom, Bush said. Forty-five members of Congress have sent Bush a letter urging continued pressure on Vietnam to improve its human-rights record, which Human Rights Watch says includes the jailing of hundreds of dissidents on criminal charges for advocating democratic change.
Across from the hotel where Khai spoke, a handful of demonstrators waved the flag of the former South Vietnam to protest the communist government's rights record.
In his introduction, McCain, a Republican senator from Arizona, had referred to continued pressure on rights but added, "We will not do so as enemies; we will do so as friends."
The protester inside the Mayflower Hotel ballroom was being interrogated by Secret Service agents late Tuesday night, Secret Service spokeswoman Lorie Lewis said. The man, whose identify was not disclosed, had shouted "You're a traitor" toward the stage, but it was unclear whether he meant McCain or Khai.
After the prime minister spoke, John Wheeler of New Castle, Delaware, another veteran of the Vietnam War, handed a reporter his card as chairman of an organization called "Vets for Friendship With Vietnam." He said many of his old comrades in arms feel as he does, not as the man who interrupted Tuesday night's festivities.
Three weeks from Tuesday will be the 10th anniversary of establishment of diplomatic relations between the US and its one-time enemy. In those 10 years, Khai said, two-way trade has increased 20 times over, and the US has become Vietnam's top trading partner. New agreements signed in Washington will make that increase even stronger, he said.
"The scope of our bilateral cooperation, however, remains modest," he said, "particularly given the fact that America is the world's leading power in economic, cultural, science and technology development, with tremendous interests in Asia and the Pacific, of which Vietnam is an important part."
After Tuesday night's gala, the Vietnamese party was going to New York, the next leg of his US visit. McCain wryly spoke of a main event in that city.
"Later this week," McCain said, "the prime minister will ring the bell at that infamous den of capitalism, the New York Stock Exchange."
Khai's scheduled turn with the gavel is Thursday morning.
Comments will be moderated. Keep comments relevant to the article. Remarks containing abusive and obscene language, personal attacks of any kind or promotion will be removed and the user banned. Final decision will be at the discretion of the Taipei Times.