Bomb, shooting attacks leave seven people hurt
EGYPT An attack by two gun-wielding women and a suicide bomber was the second assault on foreigners in a month as militants go after the tourist industry
Two veiled women shot at a tour bus, and the fiance of one of the women blew himself up as he leaped off a bridge during a police chase Saturday, wounding seven people in the second strike on tourists in less than a month, part of an apparent revival of violence against Egypt's most vital industry.
Both women and the bomber were killed in the attacks, which took place within about two hours of each other in locations about 4km apart.
Among the wounded were an Israeli couple, a Swedish man and an Italian woman, along with three Egyptians. Two Egyptians were wounded in the shooting, which targeted a bus headed toward one of Cairo's most prominent historic Islamic sites.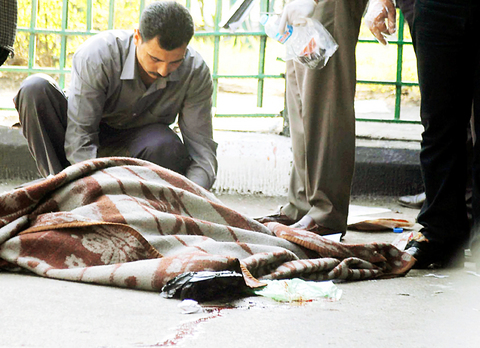 An Egyptian investigator examines the area around the body of suspected terrorist Ehab Yassin, who according to reports, threw himself off a bridge and detonated himself among a crowd of tourists near the world-famous Egyptian Museum in downtown Cairo on Saturday.
PHOTO: AFP
Egyptian authorities deny major militant groups have returned to violence -- and said Saturday's attacks were a result of its crackdown on a small cell it says carried out an April 7 suicide bombing in a Cairo tourist bazaar that killed two French tourists and an American.
But the attacks deepened fears of a new round of violence in Egypt, which saw a bloody campaign by Islamic extremists in the 1990s. After that campaign was suppressed, the country saw a lull in violence until October, when near simultaneous bomb blasts in a Taba and another Sinai resort killed 34 people. Then came the suicide attack near Cairo's crowded Khan el-Khalili bazaar in Cairo.
Tourism is Egypt's biggest earner of foreign currency, and the industry has built back after being severely hurt by the violence in the 1990s.
The Interior Ministry said police earlier Saturday captured two suspects from the Khan el-Khalili attack and were chasing a third, Ehab Yousri Yassin, on a highway fly-over when he jumped off, setting off the nail-filled explosive he was carrying, the ministry said.
Yassin's sister and fiancee, both in their 20s, carried out the shooting on the tourist bus in revenge for Yassin's death, then shot themselves, it said. Women are not known to have carried out past attacks in Egypt.
Two militant groups posted Web statements claiming responsibility for the twin attacks -- the Mujahedeen of Egypt and the Abdullah Azzam Brigades. Neither claim's authenticity could be verified.
The Abdullah Azzam Brigades said Saturday's violence was in revenge for the arrests of thousands of people in Sinai after the Taba bombings, which it also claimed to have carried out. Egyptian authorities have said that attack was connected to the Israeli-Palestinian conflict, not domestic violence.
Saturday's blast went off in a crowded square between an exclusive hotel on the banks of the Nile and the Egyptian Museum, near a bus station that was relatively empty because of a holiday weekend.
Remains of a body, covered with newspapers, were seen beneath the bridge a few minutes after the 3:15pm explosion was heard through downtown Cairo. Photos in state media showed the body lying in a pool of blood, its head destroyed in the blast.
The injured Swede -- sitting upright in a stretcher with his bloody hands held to his face -- was lifted by paramedics into an ambulance. On a nearby curb, two Westerners checked their wounds; the young woman's left arm was bloodied and the man sitting next to her appeared to have sustained leg injuries. The extent of the other woman's injuries weren't immediately clear.
"The explosion was caused by a very primitive bomb full of nails. Most of the injuries were superficial caused by the destruction of the nails," said Health Minister Mohammed Awad Tag Eddin.
Soon after, two women -- dressed in head-to-toe black veils -- carried out the shooting attack on a highway leading to the Citadel, a 12th century fortress with a towering 18th century mosque, in a part of old Cairo rich with historic sites and cemeteries.
Comments will be moderated. Keep comments relevant to the article. Remarks containing abusive and obscene language, personal attacks of any kind or promotion will be removed and the user banned. Final decision will be at the discretion of the Taipei Times.