Mexican Congress sends mayor to court
SHAKY CASE? Budding presidential candidate Andres Manuel Lopez Obrador now faces a possible jail term for an administrative offense involving a land dispute
Mexico's Congress voted to proceed with criminal charges against the country's most popular politician, leftist Mexico City Mayor Andres Manuel Lopez Obrador, a move that could knock him out of contention for next year's presidential race and shake many Mexicans' faith in their nascent democracy.
Lopez Obrador, a populist who often casts himself as a martyr, pledged to go to jail, defend himself in court, overcome the charges and run for the presidency, telling a crowd of more than 100,000 cheering supporters on Thursday that he was being persecuted for his efforts on behalf of the poor.
"I am proud to be accused, like those who struggled for justice in the past," a defiant Lopez Obrador told the House, hours before lawmakers approved the impeachment-like bill on a 360-to-127, party-line vote.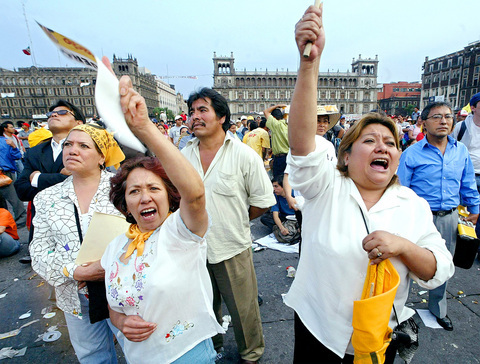 Supporters of Mexico City Mayor Andres Manuel Lopez Obrador demonstrate at the city's main square on Thursday after lawmakers stripped the mayor of his office and immunity from prosecution.
PHOTO: AFP
Echoing Cuban President Fidel Castro's "History will absolve me" speech, he defiantly told legislators, "today, you are judging me, but don't forget that later history will judge both of us."
He stalked out of the Congress building immediately after finishing his speech.
Even some members of the former ruling Institutional Revolutionary Party (PRI) -- most of whose members voted against Lopez Obrador, as did President Vicente Fox's National Action Party -- expressed regret about Thursday's vote.
"Sure, he represents the old-fashioned, populist left, but in a democracy those issues are decided by votes," not legal charges, said PRI Representative Roberto Campa.
The seemingly shaky legal case against Lopez Obrador alleges that in 2001, the city government failed for 11 months to obey a court order to vacate contested land that it had expropriated for the purpose of building a road.
However, the violation is considered minor -- the city eventually complied -- and it is not clear the mayor personally made any decisions in the case.
Lopez Obrador denies he violated the law, and said it was a plot by Fox to knock him out of a race that he leads in the polls. Fox has denied that allegation.
Interior Secretary Santiago Creel, considered the front-runner to win National Action's nomination for next year's presidential race, called a news conference late on Thursday night to say "now, finally, as everyone knows, the case is in the hands of the judicial branch."
"Let's all allow the law to run its course and respect institutional order," Creel said.
The mayor -- one of the rising tide of charismatic leftist leaders in Latin America -- has been criticized for his messianic rhetoric and occasional contempt for democratic precepts such as accountability and the separation of powers.
But his followers say the real blow to democracy would be denying millions the right to vote for him, especially after the mayor formally announced his candidacy at the Thursday rally.
"This is a step backward, for me and for millions of Mexicans," said Artemio Perez, a 50-year-old street vendor, as he listened to the vote results on a downtown street in the capital, where some of the mayor's supporters cried when they heard the news. "The only thing left to do is to protest, energetically but peacefully."
Lopez Obrador took pains not to appear radical, calling for peaceful protests while leaving the door open to mass "civil resistance."
Speaking to his thronged supporters, he urged demonstrators not to "fall into this trap" set by rivals by taking "radical measures that will scare people away and cause us to lose our popular support, so they can depict us as violent and quarrelsome."
The mayor has built a following based on handout programs and public works projects. On Thursday he proposed "a homeland for all, a homeland for the humiliated," which in the past he has said would involve a more state-supported economy, greater reliance on oil revenues and a renegotiation of free-trade pacts.
Still, unrest remains possible if Lopez Obrador is jailed. The federal attorney-general's office says it will immediately request a court order for Lopez Obrador's arrest. If a judge approves that request, the mayor will be removed from office. But it remains unclear when that might happen.
Comments will be moderated. Keep comments relevant to the article. Remarks containing abusive and obscene language, personal attacks of any kind or promotion will be removed and the user banned. Final decision will be at the discretion of the Taipei Times.