Fear of seafood contamination in Asia `unfounded'
MORBID THOUGHTS The belief that crustaceans may become diseased after feeding off corpses of tsunami victims is affecting the fishing market in the region
Demand for fish and seafood has plunged across Asia -- as have prices -- on unfounded fears that species in the Indian Ocean are feeding off bodies washed out to sea by the Dec. 26 tsunami, The Sunday Times said. \nAsians fear the sea creatures will pass diseases or bacteria on to those eating them. Marine experts and governments have sought to dismiss the rumours, which are threatening the livelihoods of fishermen in the wake of the tsunami onslaught. \nThe fear of seafood has surfaced from Singapore, Sri Lanka and Malaysia to Hong Kong, Thailand and India. \n"I don't want to eat fish and crabs that might have been feeding off dead flesh," Singaporean housewife Lee Kim Eng was quoted as saying, echoing the sentiments of many. \nPrices in the city-state have dropped by as much as half and business is down 30 per cent. \n"Now the first thing my customers ask is where my fish comes from," said Leong Kong Meng, 65. \nEven assurances that supplies are from non-tsunami hit locations such as Johor in Malaysia, Jakarta and Bangkok failed to convince two-thirds of the customers surveyed at two markets here. \nWorst-hit are Sri Lanka and Tamil Nadu where fish markets, virtually deserted, are selling seafood at one-tenth of what they cost prior to the earthquake-triggered December 26 tsunami, according to the report. \nThe Indian Ocean and Andaman Sea are vast and deep, noted Associate professor Peter Ng, a crustacean expert and director of the Raffles Museum of Biodiversity Research at the National University of Singapore. \nContaminants would have been diluted by the sea movements, he said. \nProbe teams were dispatched to the tsunami-stricken areas of Kedah and Penang to test samples of fish in Malaysia. \n"We found no indication of contamination," disease control chief Ramlee Rahmat told the newspaper. \nDomestic Trade and Consumer Affairs Minister Shafie Apdal urged consumers not to heed the "rumors." \n"It will only jeopardize the only source of income for our fishermen," he warned. \nNg said the churning sea has brought a boom in the amount of food available for the fish, such as micro-organisms, plankton, plants and other dead fish. \n"So the fish and crabs have plenty of their usual food supply and don't have to resort to eating dead human flesh," Ng said. \nThe Agri-Food and Veterinary Authority (AVA) said there are no health and safety issues if fish, in the unlikely event, feed off corpses. \nAny human tissues would be digested and absorbed to form part of the animal's own tissue, the AVA added.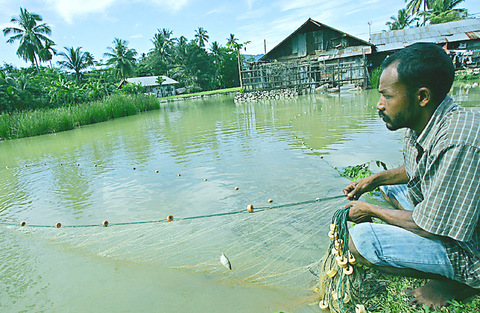 Abubakir, a 33-year-old survivor of the tidal wave, hauls in his net, catching just one small fish on the outskirts of Banda Aceh yesterday. Abubakir was staying at a nearby refugee camp.
PHOTO: AP
Comments will be moderated. Keep comments relevant to the article. Remarks containing abusive and obscene language, personal attacks of any kind or promotion will be removed and the user banned. Final decision will be at the discretion of the Taipei Times.