Sudan's main rebel leader turns from war to politics
PEACE DEAL After two decades of conflict, the economist-turned-guerrilla is set to step into politics after he signs a peace agreement with Sudan's president tomorrow
Sudan's main rebel leader John Garang, who will sign a peace deal with President Omar el-Beshir tomorrow, ending more than two decades of civil war in south Sudan, once shifted his allegiances over the Cold War and its aftermath to win his people a vote on independence. \nNow, he is set to become Sudan's senior vice president after the country's parliament enacts a transitional constitution -- based on the peace agreement -- by Feb. 20. \nWith the full blessing of Washington, the balding US-educated economist-turned-guerrilla once derided as a Soviet stooge, has finally won respectability as the leader of an internationally endorsed autonomous administration. \nBut as he swaps his military fatigues for civilian clothes, he faces the daunting task of rebuilding one of Africa's least developed regions after the continent's longest-running conflict. \nBorn in the remote Bor district in 1945, near the River Nile, Garang was one of the few in British-controlled southern Sudan to enjoy education beyond primary level. \nAfter completing his secondary education in Tanzania, he went on to study economics at Grinnell College, Iowa. \nIn 1970, he walked away from the offer of a graduate fellowship at the University of California, Berkeley, to take up arms against the Khartoum regime. \nThe so-called Anyanya uprising ended with a 1972 Addis Ababa peace agreement under which Garang joined the Sudanese military, eventually rising to the rank of colonel and receiving training at the US army infantry school in Fort Benning, Georgia. \nHe returned to the bush in September 1983 after then president Gaafar Mohammed Nimeiri imposed Islamic law in defiance of the 1972 truce. Ironically, Garang had been sent by the government to suppress a mutiny by southern troops in his home district of Bor. \nThe 105 Battalion of the Sudanese army, which he had commanded in the 1970s, became the nucleus of the rebel Sudan People's Liberation Army (SPLA). \nWashington's Cold War alliance with the Khartoum government prompted Garang to throw in his lot with the pro-Soviet government in neighboring Ethiopia. \nHe was later to dismiss the alliance as a "marriage of convenience." \nThe overthrow of the Soviet-backed regime in Addis Ababa in 1991 prompted a disastrous split in rebel ranks which brought Garang to his lowest ebb. \nThe SPLA divided on ethnic lines with Garang maintaining the support of his Dinka tribe, while the rival Nuer sided with breakaway leader Riek Machar. \nThe subsequent internecine fighting between the two sides appalled even sympathizers of the southern cause. \nA 1994 report by New York-based Human Rights Watch accused all sides of gross violations of the rules of war, while aid agencies accused rebel and army commanders alike of diverting desperately needed relief supplies. \nIn the early 1990s, the regime gave refuge to Osama bin Laden, a decision that prompted a US missile strike on the Sudanese capital in 1998. \nThe election in 2000 of US President George W. Bush, whose Republican Party included many Evangelical sympathizers with the Christian cause in south Sudan, provided a further boost. \nThrough the long negotiations that followed a framework agreement in July 2002, it was Washington that maintained the momentum propelling the two sides forward. \nNow that the war is finally over, Garang makes no secret of how much remains to be done to win the peace. \n"We haven't had tarmac roads since creation. We are literally starting from scratch," Garang said earlier this year in his interim capital of Rumbek.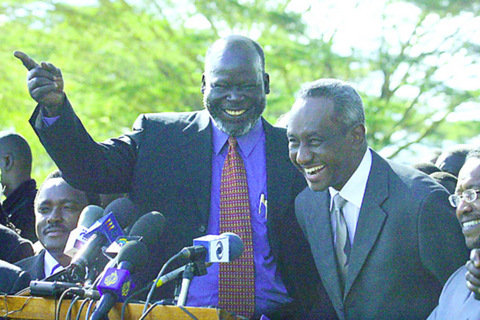 Sudan's Vice President Ali Osman Taha, right, and Sudan People's Liberation Army rebel leader John Garang, laugh in Naivasha, after signing a document to end the 21-year-old civil conflict in Sudan in this photo from January last year. A final peace agreement will be signed tomorrow.
PHOTO: AFP
Comments will be moderated. Keep comments relevant to the article. Remarks containing abusive and obscene language, personal attacks of any kind or promotion will be removed and the user banned. Final decision will be at the discretion of the Taipei Times.