New study puts civilian deaths in Iraq at 100,000
An estimated 100,000 civilians have died in Iraq as a direct or indirect consequence of last year's US-led invasion, according to a new study by a research team at the Bloom-berg School of Public Health at Johns Hopkins University in Baltimore. \nComing just a few days before the presidential election the finding is certain to generate intense controversy, since it is far higher than previous mortality estimates for the Iraq conflict. \nEditors of The Lancet, the London-based medical publication, where an article describing the study is scheduled to appear, decided not to wait for the normal publication date next week, but to place the research online yesterday, apparently so it could circulate before the election. \nThe Bush administration has not estimated civilian casualties from the conflict, and independent groups have put the number at most in the tens of thousands. \nIn the study, teams of researchers led by Dr. Les Roberts fanned out across Iraq in the middle of last month to interview nearly 1,000 families in 33 locations. Families were interviewed about births and deaths in the household before and after the invasion. \nAlthough the authors acknowledge that thorough data collection was difficult in what is effectively still a war zone, the data they managed to collect is extensive. Using what they described as the best sampling methods that could be applied under the circumstances, they found that Iraqis were 2.5 times more likely to die in the 17 months following the invasion than in the 14 months before it. \nBefore the invasion, the most common causes of death in Iraq were heart attacks, strokes, and chronic diseases. Afterward, violent death was far ahead of all other causes. \n"We were shocked at the magnitude but we're quite sure that the estimate of 100,000 is a conservative estimate," said Dr. Gilbert Burnham of the Johns Hopkins team. \nBurnham said the team excluded data about deaths in Fallujah in making their estimate, because that city was the site of unusually intense violence. \nIn 15 of the 33 communities visited, residents reported violent deaths in their families since the conflict started. \nThey attributed many of those deaths to attacks by US-led forces, mostly airstrikes, and most of those killed were women and children. The risk of violent death was 58 times higher than before the war, the researchers reported. \nThe team included researchers from the Johns Hopkins Center for International Emergency, Disaster and Refugee Studies, which has conducted similar mortality studies about North Korea and Congo. \nIt also included doctors from Al Mustansiriya University Medical School in Baghdad. \nThere is bound to be skepticism about the estimate of 100,000 excess deaths, since that translates into an average of 166 deaths a day since the invasion. \nBut some people were not surprised. \n"I am emotionally shocked but I have no trouble in believing that this many people have been killed," said Scott Lipscomb, an associate professor at Northwestern University, who works on the www.iraqbodycount.net project. \nThat project, which collates only deaths reported in the news media, currently put the maximum civilian death toll at just under 17,000. \n"We've always maintained that the actual count must be much higher," Lipscomb said.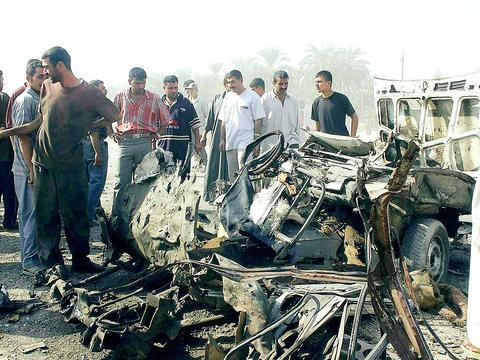 Iraqis gather next to the remains of a car destroyed by a roadside bomb near Khales on Wednesday. A new study by John Hopkins University estimates that 100,000 civilians have died in Iraq as a consequence of last year's US-led invasion.
PHOTO: EPA
Comments will be moderated. Keep comments relevant to the article. Remarks containing abusive and obscene language, personal attacks of any kind or promotion will be removed and the user banned. Final decision will be at the discretion of the Taipei Times.