`Hobbit-sized' skeleton astounds scientists
INDONESIAN FIND The skeleton of a small female from 18,000 years ago on Flores is an astonishing discovery that could rewrite the history of human evolution
Anthropologists are not often giddy with excitement, but the unearthing of the skeleton of a meter-tall female who hunted pygmy elephants and giant rats 18,000 years ago has them whooping with delight the finding of another piece of the puzzle of the origin of the species. \nThe finding on a remote eastern Indonesian island has stunned anthropologists like no other in recent memory and could rewrite the history of human evolution. \nAffectionately called Hobbit, Homo floresiensis was found on the floor of a limestone cave on the island of Flores by Australian scientists working with their Indonesian counterparts. \n"This is one of the most astonishing discoveries I've seen in my lifetime," bubbled Tim Flannery, South Australia Museum director. \n"To imagine that just 12,000 years ago you could have gone to the island of Flores and seen these tiny little creatures less than 1 meter high and weighing 16 kilograms living there is just amazing," he said. \nThe discover smashes the long-cherished scientific belief that our species, Homo sapiens, systematically crowded out other upright-walking human cousins beginning 160,000 years ago and that we've had Earth to ourselves for tens of thousands of years. \nInstead, it suggests recent evolution was more complex than previously thought. And it demonstrates that Africa, the acknowledged cradle of humanity, does not hold all the answers to persistent questions of how -- and where -- we came to be. \nScientists called the dwarf skeleton "the most extreme" figure to be included in the extended human family. Certainly, she is the shortest. \nShe is the best example of a trove of fragmented bones that account for as many as seven of these primitive individuals that lived on Flores. The mostly intact female skeleton was found in September last year. Details of the discovery appear in yesterday's issue of the journal Nature. \nThe specimens' ages range from 95,000 to 12,000 years old, meaning they lived until the threshold of recorded human history and perhaps crossed paths with the ancestors of today's islanders. \n"The find is startling," said Robert Foley of Cambridge University. "It's breathtaking to think that another species of hominin existed so recently." \nWhat puzzles scientists is that Homo floresiensis was able to do so much with so little brain power. \nMike Morwood, the University of New England anthropology professor who co-led the Flores team, reckoned that with a brain of just 380cm3 the hairy little people of Flores "would have been flat out chewing grass and nuts." \nBut they were accomplishing much more than that. Morwood believes the proto humans sailed to the island. He points to the evidence that they made primitive tools, hunted pygmy elephants called stegodons and cooked their meat and that of giant rats. \n"Language is a given," Morwood said, reasoning that hunting would require at least a primitive form of communication because their elephant prey were up to 500kg and more than a match for one hunter. \nHe sees Flores as something of a "lost world" isolated from evolutionary currents. It's a view that leads others to suggest that other islands in Indonesia might harvest other primitive human species. \n"My suspicion is that there will be many more examples of pygmy humans," Flannery said. \nHomo floresiensis is the smallest human ever found. And, since the discovery of Neanderthal remains in Europe 200 years ago, Homo floresiensis is the first new species. \nWe don't know yet what happened to the little people of Flores but one possibility is that they were wiped out during a volcanic eruption. Flannery believes the likely answer is that the pygmy people were despatched by a later line of Homo erectus, the Homo sapiens.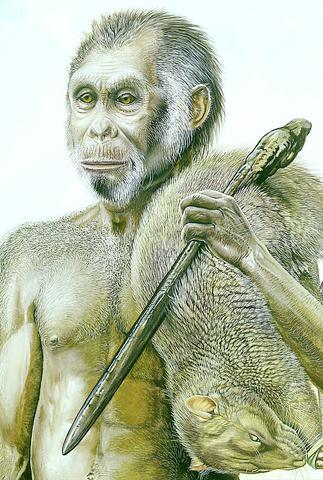 An artist's impression released by the University of Wollongong of a previously unknown human species discovered on Flores.
PHOTO: AFP/COURTESY OF ARTIST PETER SCHOUTEN/NATIONAL GEOGRAPHIC
Comments will be moderated. Keep comments relevant to the article. Remarks containing abusive and obscene language, personal attacks of any kind or promotion will be removed and the user banned. Final decision will be at the discretion of the Taipei Times.