Moore faces suit for plying voters
SLACKERS The anti-Bush powerhouse is being sued for asking normally uninterested Americans to vote -- and offering his audiences jokey sweeteners as an incentive
US Republicans say filmmaker Michael Moore should be prosecuted for offering underwear, potato chips and Ramen noodles to college students in exchange for a promise to vote for Democratic presidential candidate Senator John Kerry. \nThe Michigan Republican Party has asked four county prosecutors to file charges against Moore, charging that his get-out-the-vote stunt amounts to bribery. \n"We want everyone to participate in this year's election, but not because they were bribed or coerced by the likes of Michael Moore," said Greg McNeilly, executive director of the state Republican Party. \nMoore, a Michigan native, is touring the country and imploring "slackers" who usually don't vote to head to the polls this year, saying they could make the difference in the presidential race. He has made stops at three Michigan universities as part of a 60-city pre-election tour. \nDuring each program, habitual nonvoters are invited on stage to pledge to vote for Kerry. First-time student voters are offered gag prizes such as clean underwear. \nThe Republican party said Moore also offered students a clean dorm room, a year's supply of Tostitos and a package of Ramen noodles. \nThe party said it asked the prosecutors to charge Moore with violating Michigan's election law, which prohibits a person from contracting with another for something of value in exchange for agreeing to vote. \nDVD RELEASE \nThe legal challenge came as Moore began promoting the release on DVD of his award-winning film Fahrenheit 9/11. \n"Today's the day!," he said in a letter urging fellow Americans to rent or buy the DVD and use it as "your own personal weapon of [President George W.] Bush's mass defeat." \nThe box-office smash documentary, which could prove a high-caliber weapon against Bush, hit the market on Tuesday -- less than a month ahead of the Nov. 2 US presidential vote. \nThe DVD version of the film -- which raked in almost US$120 million at US theaters -- "is now available in thousands of stores across the country for you to take into your possession and use as your own personal weapon of George Bush's mass defeat." \nTo keep his assault on the Republican incumbent sharp, Moore also launched two books: The Official Fahrenheit 9/11 Reader to accompany the documentary and Will They Ever Trust Us Again? Letters From the War Zone, which were written to Moore. \nThe director has opted not to present the film as a candidate for a best documentary Academy Award and instead have it televised the day before the vote. It can also be considered for best picture at the next Oscars ceremony on Feb. 27. \nWith the race neck-and-neck, Moore made sure the release of the DVD came not long before the presidential vote. \n`FRIGHTENING' \nThe DVD also includes new footage from the Abu Ghraib prison where US troops were photographed abusing Iraqi prisoners, as well as previously unreleased testimony by National Security Advisor Condoleezza Rice to the Sept. 11 investigating commission, and further words from Bush. \nAccording to Moore, it is "footage so frightening you will understand why the networks never showed it to you."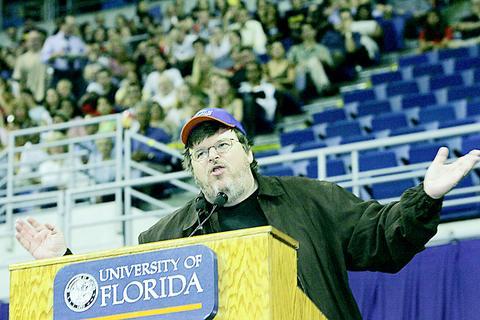 Michael Moore speaks to the crowd in the University of Florida's Stephen C. O'Connell Center in Gainesville, Florida, on Monday.
PHOTO: AP
Comments will be moderated. Keep comments relevant to the article. Remarks containing abusive and obscene language, personal attacks of any kind or promotion will be removed and the user banned. Final decision will be at the discretion of the Taipei Times.