Gang attacks add to Haiti's woes
FIGHT FOR SURVIVAL Armed gangs have held up relief convoys, further hindering the delivery of badly needed food and water to the survivors of Tropical Storm Jeanne
Victims who survived Jeanne but lost relatives, homes and belongings now are tormented by street gangs who attack food convoys and distribution points, raid homes at night and shoot those who get in their way.
The failure of Haiti's US-backed government to disarm the gangs that helped oust President Jean-Bertrand Aristide has created a climate of insecurity that further jeopardizes lives in the calamity Jeanne visited on Gonaives when it was still a tropical storm.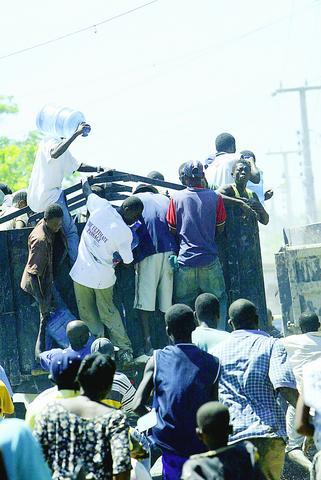 Haitians plunder a water truck Tuesday in Gonaives, where tension has mounted after floods killed more than 1,100 people. Residents continue to clamor for food while relief workers battle armed gangs, mud and high water to deliver aid.
PHOTO: AFP
"There's a big problem with gangs," said the security chief of the UN stabilization mission in Haiti, John Harrison.
On Tuesday, he was looking for safe food distribution points and stopped at the port, where he found armed men.
"I think things could get worse," he said.
While planeloads of relief aid have arrived from around the world, getting it to the people who need it has become a challenge.
The entrance to the city has been a flashpoint for looters -- a government convoy was held up Saturday by men armed with guns and machetes -- but was being secured Tuesday by Uruguayan troops in the UN peacekeeping force.
Interior Minister Herard Abraham, a retired Haitian army general, said the Uruguayans needed time to settle in and that in a few days "Security will improve."
The UN rushed 150 more troops to Gonaives at the weekend to reinforce some 600 peacekeepers already in the city.
Brazilian General Augusto Heleno Ribeiro Pereira, who is in charge of the UN force, said Monday he has only 3,000 of the 6,700 troops he needs and could use more help from Haiti's police force.
On Tuesday, police officers from Haiti's demoralized and ill-equipped force drove by a water truck that was being looted -- people had swarmed up on to the moving vehicle and were chucking out bottles of water to a gleeful crowd that followed. The officers came from the opposite direction -- and kept driving.
"We believe the lootings are planned by gangs," Agriculture Minister Phillipe Mathieu told a news conference in Port-au-Prince, the capital to the south. "They organize people jumping on trucks."
Police Commissioner Abner Vilme confirmed street gangs were breaking into people's homes in the blacked-out city at night. He said his men -- down to about 15 since the storm -- had tried to negotiate with the gangs, but that they did not keep promises to behave.
Jean-Claude Kompas, a New York physician who rushed to volunteer his services last week, said he has treated 30 people for gunshot wounds received in fights over scarce food.
Officials say more than 1,500 people have died and 900 are missing since the storm passed 10 days ago. Many of the missing must be presumed dead -- washed out to sea or buried in debris still not reached by rescue workers.
The toll must rise, officials say, as rescuers reach inaccessible areas.
Some are in the city of Gonaives, a city of 250,000 still caked in the storm's mud where 200,000 are homeless, thousands are living on sidewalks and roofs of flooded homes and the slow pace of help has left thousands hungry, overwhelming officials and aid workers.
Outside the city, in Dalcarida farming community on Tuesday, one decomposed corpse clung to a tree and the hand of another reached out from meters of mud clogging an irrigation canal flooded when the storm passed 10 days ago.
Three other corpses were visible in coagulating mud and farmers, many wearing masks against the stench, said they thought 50 had died and they did not know what to do with the bodies.
Another 50 people were missing from their village since Tropical Jeanne's torrential rains unleashed torrents of mudslides and burst river banks that engulfed this northwest area of Haiti.
"It was like a wave," Delva Delivra, a 64-year-old father of five, said of the disaster. "All of a sudden it was five feet and it was just killing everybody."
Comments will be moderated. Keep comments relevant to the article. Remarks containing abusive and obscene language, personal attacks of any kind or promotion will be removed and the user banned. Final decision will be at the discretion of the Taipei Times.