Vote backs prayer calls in US town
Residents of this once predominantly Polish city rejected an effort to repeal an amendment to the city's noise ordinance, a victory for those in favor of allowing mosques to issue the call to prayer over loudspeakers.
The vote on Tuesday, which those in favor of allowing the calls acknowledged was merely symbolic, was 1,462 to 1,200, or 55 percent to 45 percent.
The City Council unanimously passed the noise ordinance in April after a mosque asked for permission to begin broadcasting the Arabic chants, traditionally issued five times a day.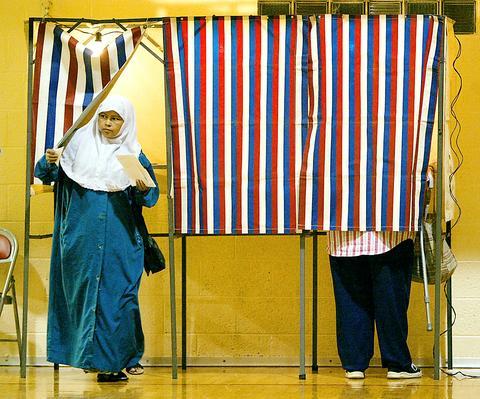 A resident of Hamtramck, Michigan, leaves a school voting booth on Tuesday.
PHOTO: AP
The ordinance regulates the volume and timing of the amplified call. Without the law, city officials said there would be nothing to prohibit the broadcasting of the call to prayer itself.
The council's action provoked an outcry among some longtime residents of Hamtramck, a city of 23,000 people that is surrounded by Detroit. In recent years, the city has seen a rapid influx of immigrants from Bangladesh, Yemen and other countries.
The al-Islah mosque began the call to prayer in May. At least one other Hamtramck mosque has also begun the broadcasts via loud-speakers since then.
"Either way, the call is going to continue to happen," City Council president Karen Majewski said before Tuesday's vote.
The vote was nonetheless widely viewed as a choice between allowing the call to prayer or prohibiting it by repealing the amendment.
Robert Zwolak, one of the organizers of the petition drive that put the question the ballot, said he has no plans to fight the call to prayer in court.
"The only other recourse we have is to change the political faces we have in City Hall right now," he said.
Willy Jones, 67, who voted at a school across the street from the al-Islah mosque, questioned the assertion by Muslim leaders that the calls are no different from church bells.
"The church has been doing this for years. This is not calling people to prayer. It's [giving] the time of day," he said.
But Robert Wicke, 66, said prohibiting the call to prayer would deny Muslims a basic right.
"Religious liberty -- they have the right to exercise it just like everybody else," he said.
Lutful Choudhury, a Muslim who voted to keep the ordinance, said the initiative's backers were blowing the issue out of proportion.
"They're trying to make it a big deal, but it's not," he said.
"If you go two or three blocks, you can't even hear it," he said.
Comments will be moderated. Keep comments relevant to the article. Remarks containing abusive and obscene language, personal attacks of any kind or promotion will be removed and the user banned. Final decision will be at the discretion of the Taipei Times.