Cassini enters orbit around Saturn
LORD OF THE RINGS The truck-sized space probe on Wednesday slung itself into orbit, from where it will send back images that could redefine scientific understanding
NASA's Cassini spacecraft slipped through Saturn's rings and into orbit on Wednesday as it settled in to make the most detailed study ever of the sixth planet from the sun.
Project scientists from 17 countries erupted into wild cheers when Cassini signaled shortly after 4am GMT that it had completed a delicate 96-minute maneuver that required the truck-sized probe to dodge through Saturn's rings and sling itself into orbit.
Cassini, which traveled for seven years to reach Saturn, will spend at least the next four years studying the planet, its rings and some of its 31 known moons. Much of that time will be dedicated to Titan, one of the solar system's largest and most intriguing moons, with an atmosphere and composition that resemble a primordial Earth.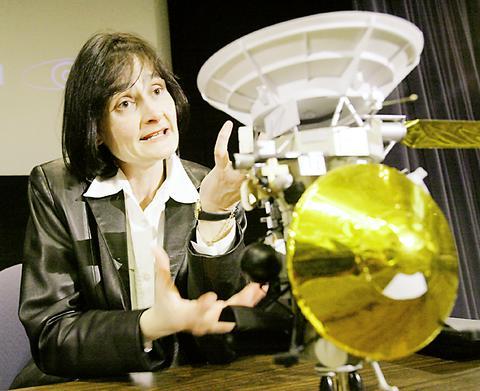 Michele Dougherty of the Imperial College of Science and Technology in London discusses the Cassini spacecraft with reporters after a news conference on Wednesday at the Jet Propulsion Laboratories in Pasadena, California.
PHOTO: AP
"I can tell you it feels awfully good to be in orbit around the `Lord of the Rings,'" Charles Elachi, director of NASA's Jet Propulsion Laboratory, said at a press conference.
The US$3 billion mission has been hailed as a model for multinational space exploration. Cassini's key maneuver was the second international space success on Wednesday night.
It came hours after astronauts from the International Space Station repaired a broken gyroscope during a space walk.
"This is a stellar evening ... We're certain to learn some marvelous things," NASA Administrator Sean O'Keefe said in a phone call to project scientists, in which he thanked European and Italian Space Agency partners.
The Saturn mission has gone flawlessly, from Cassini's launch in October of 1997 to the end of the critical orbital insertion maneuver. The spacecraft completed the maneuver within one second of the schedule scientists had set for it more than seven years and 3.5 billion km ago.
Cassini could provide a major boost for NASA, which is still riding high from the impressive job done by its twin Mars probes, Spirit and Opportunity. The two robotic geologists have spent nearly six months exploring Mars and have made key discoveries about the presence of past water there.
The NASA and European scientists, some of whom have spent their entire careers working on the Cassini mission, next must wait for the first data and images from the probe, which were expected to arrive at about 12am GMT yesterday.
Scientists hoped to see objects as big as skyscrapers from the early pictures.
During Cassini's first orbit, it was expected to make its closest pass to Saturn of the entire mission and, it was hoped, send back images that could redefine man's understanding of the planet and its rings.
Cassini also carries on its back a smaller craft, Huygens, which is designed to break away in December and plummet onto the surface of Titan for a brief study of that moon's atmosphere, which is mostly methane and nitrogen.
That portion of the mission was designed largely by the European and Italian Space Agencies.
The probe has spent the seven years since its launch from Cape Canaveral on a circuitous interplanetary journey past Earth, Venus and Jupiter to Saturn, the sixth planet from the Sun.
It will orbit Saturn at least 76 times, although scientists said on Wednesday that they were lobbying for funding to extend the mission for two to four years.
Scientists expect to find that Saturn has a small rocky core surrounded by a sea of liquid metallic hydrogen that bubbles like soup.
Comments will be moderated. Keep comments relevant to the article. Remarks containing abusive and obscene language, personal attacks of any kind or promotion will be removed and the user banned. Final decision will be at the discretion of the Taipei Times.