Ireland gives Bush rough treatment
NO RED CARPET The US president was greeted with a hostile television interview; protesters shadowed him; and all week long he'd been skewered on radio shows
Pretzels were off the menu at US President George W. Bush's working lunch with European statesmen in Ireland yesterday afternoon.
Only the finest Irish food was to grace the table at the renaissance castle in County Clare, in the west of the country, as the conversation turned to Iraq and famine in Sudan. French fries were unlikely to be served and there would be nothing the US president might have trouble pronouncing.
What Bush was probably choking on was the gristle of the Irish media.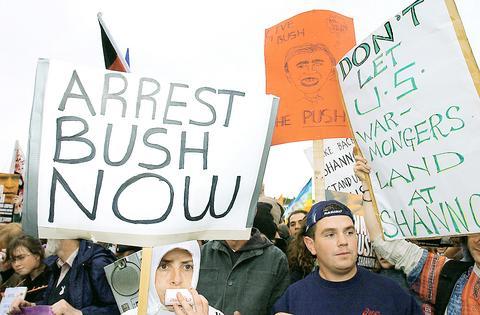 Demonstrators protest outside the entrance to Shannon Airport on Friday upon the arrival of US President George W. Bush.
PHOTO: AP
Not suspecting that he would be subjected to anything more than a gentle probing from a reporter from a friendly state that the US "helped" to prosper, on Friday he gave the first White House interview to an Irish journalist for 20 years.
But the state broadcaster RTE subjected him to a grilling which left him fuming and had media commentators and license-payers debating the Irish style of journalism.
It was intended as a cordial start to yesterday's EU-US summit in Ireland, which sought to patch up a relationship troubled by Iraq before he headed to the NATO summit in Turkey yesterday afternoon.
Some claimed that Bush's first visit to the Irish Republic had been tailored to give him a pre-election media opportunity to impress the 50 million or so Irish folk back home, and Irish prime minister Bertie Ahern's fashion sense would ensure that he got the coverage he requires.
Once known as anorak-man, Ahern hogged so much media time with his recent appearance in a garish pair of canary-yellow trousers at the G8 summit that the issue was raised in the Irish parliament.
But RTE's Washington correspondent, Carole Coleman, was not about to let Bush off the hook. In an interview broadcast on television and radio breakfast shows she persisted with questions about dead US soldiers, torture, the issue of making the world a more dangerous place and about being disliked.
"I don't really try to chase popularity polls," the president said.
After Irish churchmen queried the president's morals this week, there was also an inevitable question about his devotion to the Lord.
"I get great substance from my personal relationship [with God]," he said.
"That doesn't make me think I'm a better person than you are, by the way, because one of the great admonitions in the good book is, `Don't try to take a speck out of your eye if I got a log in my own,'" he said.
The thousands of Stop Bush protesters at Shannon airport, where Bush was due to land Friday night, were not swayed.
A warehouse on Shannon's industrial estate had been converted into a makeshift courthouse with holding cells for up to 150 people and a judge was on standby.
Irish demonstrators were resolute. "No red carpet for killer Bush," said a placard in a hedgerow.
Comments will be moderated. Keep comments relevant to the article. Remarks containing abusive and obscene language, personal attacks of any kind or promotion will be removed and the user banned. Final decision will be at the discretion of the Taipei Times.