Bush team says no to Reagan ads
US President George W. Bush's re-election campaign said on Saturday it has no plans to use former president Ronald Reagan in campaign ads, but Republicans said his legacy would be invoked in other limited ways.
Administration officials said they doubted the Republican icon's death would have much impact in the presidential race and did not want to be seen as trying to capitalize on it for political gain one day after his funeral.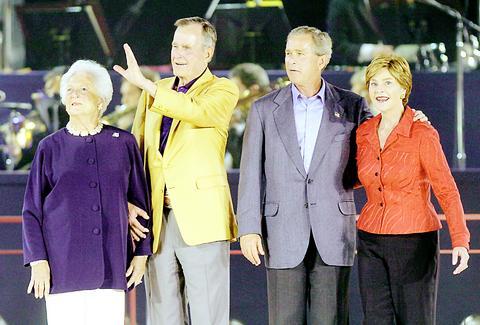 Former president George H.W. Bush, second from left, and former first lady Barbara Bush, left, stand with their son, US President George W. Bush, and first lady Laura Bush as they are introduced at the opening of the elder Bush's 80th birthday celebration on Friday in Houston, Texas. Bush senior planned on going skydiving yesterday to celebrate.
PHOTO: AFP
"You have to strike a delicate balance," an administration official said.
"It needs to be and will be subtle," Republican political consultant Scott Reed said of using Reagan's legacy in campaign speeches and events to rally Bush's conservative base.
Bush used his weekly radio address on Saturday to extol Reagan's bold actions and unwavering convictions in the fight to defeat Soviet Communism -- the same attributes the campaign ascribes to Bush in his war against terrorism.
Republican sources said the goal going forward would be to highlight similarities between Bush and Reagan.
Bush has long sought to cast himself as Reagan's political heir, and days before his death Bush delivered a major speech that likened the Cold War to the war on terrorism.
"It's obvious ... They do share a lot of things and similar qualities," an administration official said.
The presumptive Democratic nominee, Senator John Kerry, was more overtly political when he invoked Reagan's memory on Saturday -- to press for a change in Bush policy to allow embryo research into Alzheimer's, the brain-wasting disease that afflicted the former president.
Embryonic stem cells have the ability to produce cells that make any kind of tissue at all, and the hope is to train them to produce tissues and organs on demand.
However, their origin is controversial to some people because they are taken from tiny embryos left over from test tube fertilization attempts. They can also be made using cloning technology.
In a series of political speeches starting next week, Bush and Vice President Dick Cheney are expected to hail Reagan's leadership. First lady Laura Bush will stump in the battleground states of Pennsylvania, Ohio and Minnesota, the campaign said.
Reagan is also likely to be commemorated at the Republican National Convention in late August and early September, when Bush will be formally nominated to run for re-election.
But Bush campaign officials said they had no plans to use Reagan in ads or to overtly use his death as a political message.
"If you overdo it, you run the risk of being criticized for politicizing his death," an administration official said.
Bush aides and analysts played down the role of Reagan's death on the presidential race.
"It will be decided based on the campaigns of President Bush and John Kerry," one administration official said.
Comments will be moderated. Keep comments relevant to the article. Remarks containing abusive and obscene language, personal attacks of any kind or promotion will be removed and the user banned. Final decision will be at the discretion of the Taipei Times.